Warning: the following story may make you want to never eat grapes again.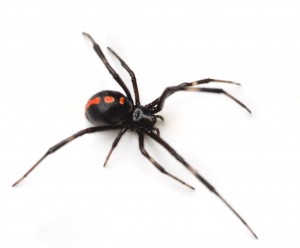 Photo courtesy of blackwidowcommunications.com
On May 22, a Vermont woman reportedly got an extremely unpleasant surprise while reaching into a bag of grapes. Instead of something TO bite, the woman ended up with something THAT bites. While attempting to pluck out her piece of juicy goodness, the unlucky lass disturbed a Black Widow spider that was lurking amongst the fruit. The 21-year-old's mother claims the arachnid scurried up her daughter's arm and bit her.
Rather than stomp on it a thousand times, the family apparently had enough presence of mind to catch the spider and take it along to the hospital, presumably so it could be identified and aid the course of treatment. Black Widow bites usually aren't fatal, but the effects are nasty. The venom can cause muscle aches, nausea and breathing problems. The victim spent the night in the hospital and was released the next day. Doctors will monitor her condition over the next several months.
The grapes carrying the unwelcome hitchhiker came from a supermarket in Colchester, Vermont called Shaw's. The supermarket is now scouring its produce for any other hazardous critters and also alerted its grape supplier to the potential dangers.
Shaw's is also replacing all the contents of the family's fridge in case any other creepy-crawlies are lying in wait. Considering this is a FREAKIN' BLACK WIDOW SPIDER we're talking about, though, maybe they should also take the next step and get them a whole new refrigerator!