Rumor has it that Marvel is working on a new
Blade
movie but this time it won't star Wesley Snipes. A new series of comics follow Blade's daughter, Fallon Grey.
Tim Seeley, series' writer, describes Fallon as
, "sort of 'anti-Peter Parker.' She's popular, she's well-liked and it seems like the world is her oyster. But, the expectations that come with being so damn perfect are starting to break her down, and that's before she learns she's the heir to a Daywalking-Monster-Stabbing-Empire." Sounds like Buffy for the next generation to me! And that is a glorious thing!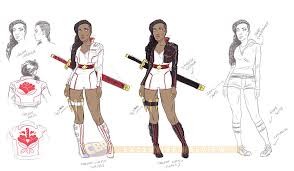 Courtesy Comicvine
The
internet has been abuzz
with rumors that the new
Blade
movie will feature this new heroine and it would be a pretty significant shift in Marvel's pattern so far. Marvel has kept pretty close to only making films out of well-established books and male character leads. Giving Fallon Grey her own movie would offer a breath of fresh air to comic book fans. And it would give a generation of young women, who may only be familiar with weakling characters like Bella Swan
(Twilight),
 a strong female character in vampire lore and a new superhero in a male dominated genre. That doesn't mean Wesley Snipes will never grace the screen again as the daywalking vampire hunter. He's hinted that he would like to return to the role and Fallon needs to learn the family trade from someone! The debut of the new
Blade
comic book series was announced for October but has been postponed by Marvel and now has an unspecified release date.