From Salt Lake City comes your next favorite punk band. Releasing their high-octane EP Gateways, The Departure respectfully tips a hat to the 1990s greats that came before them. But rather than simply copy and paste, The Departure adds their own progressive style to their instantly likeable music, succeeding in producing their own signature sound.
Opening with the tried-and-true happy but somehow melancholic "For The Best", The Departure focuses on reaching out to your angst-ridden inner self, and setting that part free with exciting music. The lyrics are straightforward but get their point across, the guitars are tight, and the drumming is noticeably heavier, which is a great call by the band. This track doesn't redefine the punk genre, but it does fit perfectly into what bands like Blink-182, Green Day, and Paramore have been, and are, doing.
"Incompetence" follows in the fast footsteps of "For The Best," but rather than offer up a happy-sounding track, The Departure dives right in to the serious emotion of this song. Where "For The Best" lacked in genre originality, "Incompetence" smashes through the punk fluff and embraces a more progressive metal sound. The vocals truly shine on this track, and I hit replay more than a few times to soak in how many great layers make up this exciting track.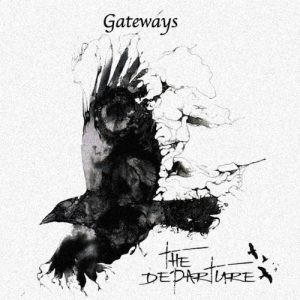 Courtesy of Music Media Download
The third track, "Gateways," has one of the most beautiful openings I have ever heard, and because of this I feared where this song might take me, because it is easy to hold something great in your hands, and then accidentally drop it to the floor with a lack of care. Thankfully, The Departure clearly knew they needed to handle this musical gem with care, and that they did. "Gateways" is an epic, emotional song, and for many, this is no doubt going to be their favorite song on this creative and powerful EP.
The rest of the EP is filled with one exciting track after another, and The Departure deserves credit for the real effort they put into the whole package. Everyone plays their hearts out on these songs, and it clearly shows that they sing and play from a true place of vulnerability and honesty, which is exactly where great art resides. The production and mixing of the album is beautiful and full, and not one track feels like it is missing something or needed to be mixed louder. If you are a fan of punk, metal, progressive, or music charged with some darker emotions seeking out the light, then look no further than what The Departure has brought us with their truly inspired
Gateways. 
The Departure can be found on Facebook, Twitter, and their official website.