San Diego's annual Comic-Con is full of actors, artists, and composers. But there are also several publishing companies and authors carving a space for themselves within various fandoms. Bob Proehl's debut novel, A Hundred Thousand Worlds, explores our relationship with what it means to be a fan through ValerieTorrey – a former actress who leaves her hit sci-fi show and costar husband after a terrible tragedy – her son, Alex, and a remarkable cast of characters who "offer a chorus of knowing commentary." Through their journey, we discover what it means to be part of a fandom in a world that may have lost sight of what being a fan really means.
We caught up with Bob at San Diego Comic-Con this year to discuss what being a fan means to him, and how his book aims to dissemble the current prejudices within fandom and fandom culture.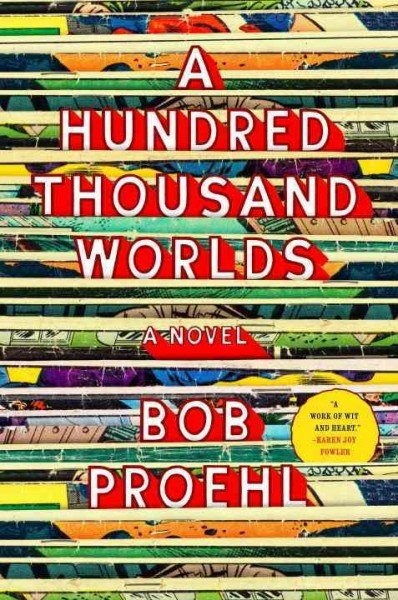 Bob Proehl/ NPR
PopWrapped: First of all, congratulations on the new book! Can you tell us a little bit more about it?
Bob Proehl: Sure. It's a mother and son story; she's traveling cross-country with her son. It's about parenting and it's about family, but it's also about fandom and looking at the different ways that people are alike and invest themselves in stories and in narrative. Whether it's kids or fans ... there's something really great about being a fan. Even people who are psyched about stuff that I'm not into, like people who are in awesome video game costumes. Like, "I don't know who you're supposed to be, but that huge sword you built yourself is awesome." Often, people are at their best when they're excited about something. It's a great ground to meet people on, you know? It's like an introduction: I know automatically that we have this thing in common. 
PW: You mentioned the broad definition of fandom and what it means to be a fan. Is there any particular fandom that is near and dear to your heart that influenced you?
BP: I'm a comic book fan. I've been reading superhero comics since I was a sprague, and that's the fandom I come out of. I started going to conventions as a kid when a Con was 12 comic book dealers in the hallway of a mall, and maybe there was a writer or an artist there. It was probably not your favorite writer or artist, but you knew they were coming so you'd get a couple of their comics and get them signed. But that was it – and it was almost exclusively dudes. For me at the time it was a really cool thing because it was other people who were really into comics. But starting to go to bigger Cons as an adult is amazing. It's so much better! Seeing how fandom has become more broad. These things we still call Comic-Cons are now opening themselves up to a lot more pop culture and a ton of stuff. It's so cool to walk out onto a convention floor and see this huge diverse group of people who are unabashedly excited about things.
PW: It is about the comics, but it's more about what the fans can do with the comics – with the worlds that are already created and how they can expand on that, or immerse themselves into that world. 
BP: Yeah, that field for fan interaction and fan ownership still feels somewhat new or somewhat expanded. I'm not a big Star Trek person, but I was talking to somebody about how Star Trek fandom influenced fandom at large. Part of it was that really early on, while the original series was still running, Roddenberry was really open to people playing in his sandbox. Sort of proto-fanfiction. And that was the way people learned to interact with it: by dressing up, by inventing other ships in the fleet, and colonizing this world that he had built. It's so great to see that's how fandom operates now.
PW: People who are more musically inclined are even taking a theme song or popular riff – or even reading a comic – and they'll just make something new with it. But that gets people from a different medium completely invested in this world. 
BP: Yeah, and when you think about the corporations that own the intellectual properties, they could just come and crack down on all of this stuff. They could enforce copyright. But they know that this is how you get people to love your thing: by letting people play with it themselves. There are people now talking about fan entitlement, and that came out around Captain America as a Nazi. There was this moment when it seemed like the people who were writing the comic didn't understand the level of investment the fans had. At the same time, I think for a lot of fans what it would have led to was, "Well that version is not my version, I have this other version – I have my Cap, and my Cap is not a Nazi." It led to some people pulling back from the comic, but keeping the character for themselves. That's something that can happen. There's a great book by Glen Weldon called The Caped Crusade that talks about Batman fandom, which sometimes he's quite negative on it. But it's about what Batman is yours and how that fandom took ownership of certain versions of the character and objected to certain others. But now everyone gets their Batman. There's so much out there to choose from, it doesn't have to be linked to cannon. 
PW: I remember back when Comic-Con was still crowded, but you cold get Preview Night and all four days for less than $100, and on the weekends you could go up to the Pavilion and buy tickets for the next year. Now I look at all the cue lines and I know that they all just want to get in and be part of that fan experience. Like the Star Trek art exhibit, for example, was full of people who just took what they loved about a franchise and made it into art, and that's beautiful.
BP: Yeah. There was a conversation about Star Trek I had with a group of people I didn't know were Star Trek fans, and it was really interesting to hear that the reason they were all into it was because of all these different doors that lead into it. There are different ways into the rankings and the quasi-military and the fleet. From the very beginning it was a franchise that had people of color and prominent women characters. I saw Michelle Nichols yesterday and even as someone who's not into the show, she is so badass. She was signing at a table near where I was signing and I thought, "Whoa! Totally badass!" But more and more, these things leave a lot of doors open to allow people to come in and become fans. 
PW: Absolutely. It's great being able to see people get excited about their fandoms because you know that's how excited you get about your own fandom. That excitement is so uniting, and that's how fans are all the time, no matter what their particular niche is. 
BP: Yeah, and that's what I wanted to do with the book: reflect it in such a way so that if you're not someone who goes to Cons, you can see what it looks like to be that excited about stuff. And everybody has something. Some people get psyched about knitting. I don't know how to knit, but I'm glad you're excited about it. I want that to be the way fandom looks to non-fans. I want it to be seen as a positive thing. It bugs me that The Big Bang Theory is sort of what geek looks like in pop culture. [I think] it's wrong, it's self loathing, and it's inaccurate. I don't know that it accurately maps onto being a geek at any point, but it certainly is not the current state of things. So I wanted to push against that. The fandom in the book is a little idealized. I swerved around some of the more negative aspects of current fandom. It's been odd doing interviews and writing essays about the book, especially because they've sent me out to a bunch of Cons this year. But before that we were in a negative spot with fandom – it was toxic. But then you get small reminders that that's not what the culture is like. It's actually really great and better than it's probably ever been. 
PW: It's like what they say, "War is louder than peace." So everyone who has something negative to say is going to be louder than those of us who are just sitting and enjoying fandom for what it is. 
BP: Yeah. I think – and I don't want to speculate about other people's psychosis – I'm of a certain age. I came out of a fandom that was very quiet. I read comics in my room alone, I would never think to read one in public because you'd get made fun of, or in some cases roughed up. I think there are some people who had that experience of being a fan ... That was a consequence of being a fan at some point, but that's not why you did it. That's not what'a valuable about it. By bringing your baggage back into the fandom, you're feeding that [toxicity]. The thing that makes it extra toxic as a hetero cis white geek is that that kind of persecution can be shut off. I can just read my comics in my room and never run into that. But then you take that persecution out and direct it at people who already have that going on day to day in ways they cannot shut off. It gals me to no end, and I hope we are approaching the end of it. I've been on tour for the book and I'm talking to lots of fans and I start to see these things being internalized – and it's really really bad! I did a reading in Philly and this young person of color said to me, "Do you think diversity in comics is moving too fast?" No! No, and don't ever think that! Don't worry about people's lily-white feelings. Move forward and everyone else can catch up. But to hear that argument that I hear spouted by older white male fans coming from a young black kid is just bad. Diversity is fantastic! We should all just move forward with it as quickly as possible. It's too late in coming already. 
PW: There are a lot of indie artists and smaller, lesser known artists who are trying to make that happen in the industry, with their readerships and viewerships. They are being met with some resistance, but for the most part fans are really accepting and they want to help it come out. But it's tough going, sometimes.
BP: Yeah. I really don't think you can underestimate the power of having a fan seeing themselves represented in media.  It's always great to see someone who looks like you be the hero of a story. It's also important to read about other kinds of heroes. That's how you learn empathy. There is a lack of empathic training for white hetero cis males. If you walk through the world with the expectation that you are always the hero, there is something inherently toxic about that. Then you think about people who have not been traditionally represented who have had to read about white male heroes. We've already asked a lot of empathy of people who have not been represented, and it's time for that to switch. 
A big thank you to Bob Proehl and his team for talking with us about A Hundred Thousand Worlds and fandom!
You can download A Hundred Thousand Worlds via NetGalley, Amazon, or Barnes & Noble.