Bonnaroo is the unofficial kickoff to summer music festivals and in my second year attending, it didn't disappoint. While the main stage lineup wasn't as jam packed as 2015, the smaller stages showcased new talent and tons of chances to find a new favorite artist. Also, new for 2016, two large permanent buildings were installed with rows and rows of flushable toilets—if you've been to Bonnaroo (or any summer music festival, for that matter), you know the difference that this can make. 
So, besides the flushable toilet situation, what makes Bonnaroo so special? Why do we continue to go year after year to sweat our asses off in the Tennessee heat? For some, it's the music. For others, it's the awesome food and "extras" like comedy, cinema, and the Silent Disco. But I really think that for all of us, we keep going back because of the awesome community that Bonnaroo organizers have built around music, philanthropy, sustainability, and general do-gooding.
Interested in more than just music? Planet Roo is the place for all Bonnaroovians looking to learn, relax, give back, and be part of something bigger. Per Bonnaroo.com, "Planet Roo is the place to be to heighten your global consciousness with yoga, meditation, amazing interviews and intimate performances from musicians. In this area, you can find a variety of nonprofit organizations, a coffee shop, yoga classes, art and theater classes at The Academy, the Bonnaroo Learning Garden, the Solar Stage, and great meals at The Planet Roo Café." 
Also, there's shade. So Planet Roo immediately has that going for it.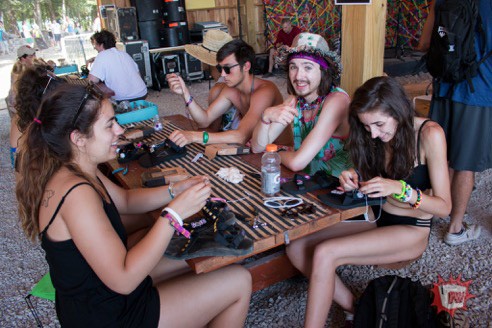 Stacey Bosley/PopWrapped
The theme of sustainability and community is clear from the minute you walk through Planet Roo's arch entrance, which was designed and built by the Oak Tree Collective in 2013. With "locally sourced natural and reclaimed materials, a variety of finishes and textures, and plants growing on top," the structure is beautiful and inviting. Several large structures have been built with the exclusive purpose of providing shade and just so happen to be beautiful along with it.
While there are countless activity options, from gardening 101 to meditation and yoga, I spent most of my time in Planet Roo strolling through the non-profit vendor tents to get more info on their causes and why they come out to Bonnaroo each year.
The non-profits represented at Planet Roo touched on many of the ideals that Bonnaroo stands for—freedom, sustainability, helping those in need, and much more. Here's just a few of the wonderful organizations that came to Roo this year, but are out there making the world a better place all year.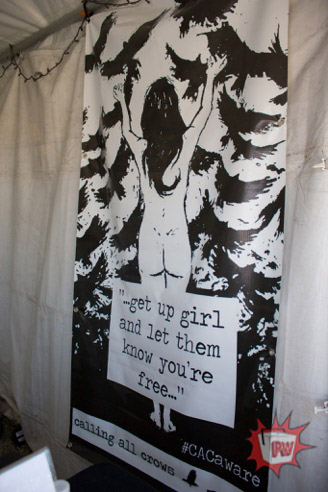 Stacey Bosley/PopWrapped
TWLOHA (To Write Love On Her Arms)
TWLOHA aims to help teens and adults find their place in the world when suffering with addiction, depression, self-injury, and other mental health issues. This year at Roo, TWLOHA's team was inviting all of us to leave notes for each other based on whatever we felt someone might need to hear—or maybe what we needed to hear. These sentiments included simple phrases like "You are enough" or "You're beautiful" and were there for the taking from anyone who might need a boost. This simple act of kindness was clear through the hundreds of messages tacked up inside TWLOHA's tent.
Oxfam America
Oxfam America is a large and established non-profit in the US (and around the world), and their presence at Planet Roo was felt in a big way. They had a large tent with beautiful displays and bright colors that you couldn't help but be drawn to. After talking to some Oxfam volunteers about their important work with poverty and hunger, they sent me away branded with tattoos to help spread their message throughout the rest of the farm.
Calling All Crows
This unique organization partners with musicians and music-centered events to bring awareness to a variety of women's issues in our country. Specifically at Bonnaroo, Calling All Crows was shedding light on the "boyfriend loophole" in US gun laws. The majority of gun violence against women is committed by intimate partners, yet there is no law on the books to stop perpetrators of domestic violence from purchasing guns. Volunteers at Bonnaroo were educating us about this issue and gathering signatures for a petition.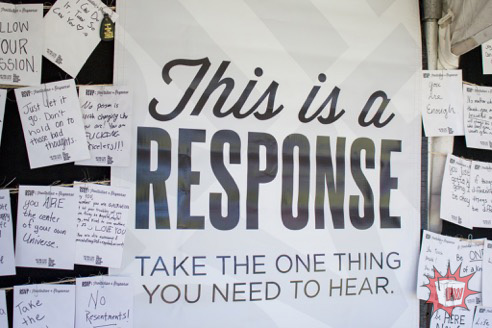 Stacey Bosley/PopWrapped
There were so many other amazing organizations represented at Planet Roo and you can read more about them here. If you have the opportunity to choose a music festival to attend in upcoming years, don't just make the choice based on the music you'll hear. Look a little deeper and you can find loving and supportive environments that will keep you coming back every year.