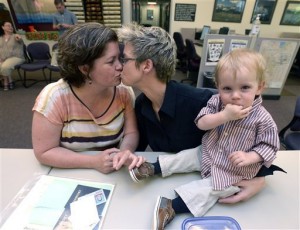 Courtesy of The Olympian
I am so excited for the states who are finally able to give same sex couples the rights they deserve. So when I read that there is a single man on a mission to ruin that for thousands, it irritates me beyond belief. While the Boulder County Clerk, Hillary Hall, is handing out LEGAL (yeah, you heard me) marriage licenses, the Colorado Attorney General John Suthers is a
rain-on-the-parade kind of man.
He stated:
"Today's decision by the 10th Circuit Court of Appeals was stayed by the court and has not gone into effect even in Utah, let alone in Colorado. Any marriage licenses issued to same-sex couples in Colorado before a final court resolution of the issue are invalid."
However, Hall put on her Wonder Woman cape and stood up for the LGBT community. She consulted with the county's legal team, who then came to the conclusion that the stay in court to uphold the ban only applies to Utah, for the time being at least.
"We think it is both legally and morally correct," Hall said of her decision. "Colorado's prohibition on same-sex marriage has treated our citizens and families as second-class citizens for too long."
No citizen is second class! We need to keep pushing for equal rights, and you can bet I'm cheering on the states as they exit the dark ages of discrimination and emerge into the wonderful new world of love and acceptance for all! Good luck, Colorado!
Keep Up With PopWrapped On The Web!