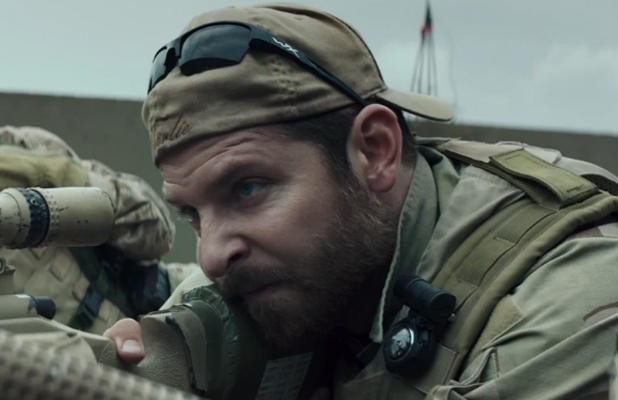 Courtesy of veryaware.com
American Sniper
is a film based on the autobiography of Chris Kyle, the most lethal sniper in US history with 160 confirmed kills. It is directed by none other than Hollywood Action superstar, Clint Eastwood, who has tackled war and violence in front of and behind the camera. Removing politics, the film itself focuses on the struggle of one man's experience in war and the effects it has on his family. The film's main protagonist, Chris Kyle (Cooper), will be on-screen for most of the film. Quite a responsibility, considering the movie will rise and fall with Cooper's performance. Thankfully though, Bradley Cooper was able to deliver. Chris Kyle is a Navy Seal, an all American guy, raised in Texas. This is a man who, by all accounts, does not express that much emotion. It is easy for an actor to portray someone who shows what he is feeling with every gesture. But how do you act out someone struggling with his inner demons but who maintains a rather pensive face? Cooper was able to do this perfectly. Usually, when a soldier is on-screen they tend to move amidst explosions and gunfire. Cooper had to lay down and be still. A sniper by nature tends to stay concealed in one position. He was able to convey panic, indecision, concentration, and fatigue while remaining completely immobile. But it wasn't just in the battle scenes. There were moments on the home front where Chris, back from his tour of duty, would just sit, and you can see the emotions churning behind Cooper's eyes. It was a brilliant piece of acting, and it served as catalyst for Sienna Miller, who played Chris' devoted wife Taya. The main problem for the wife is her husband's inability to tell her what is wrong and what happened in war. This is fairly common among veterans. Miller was able to bounce off Cooper's untouchable wall, showing proper frustration at not being able to reach the man she loves. Despite being seen exclusively from the point of view of one character, the film is still able to portray the struggles the Iraqis had to face when dealing with the war. We see how much danger they face when civilians had to cooperate with Americans. The supporting Marines and Navy Seals in the film also did an excellent job. Even in their smaller roles, they allowed their bit parts to shine. Some notable role were taken up by Jake McDorman, who played Kyle's fellow Navy Seal, and Kyle Gallner, who portrayed Chris' marine escort. Keir O' Donnell, who played Jeff Kyle, a Marine and Chris' younger brother, had this amazing scene where the two brothers meet in the Forward Operating Base, where Chris was going back to duty and Jeff was flying home. Keir was able to show the distress of a man broken and disillusioned by war in the space of a few seconds and one line. The movie also features some amazing action scenes. One particular climatic event was the major fight during a sandstorm, which was greatly executed. All in all,
American Sniper
is a must see film which will not disappoint. It is character driven, plenty of action scenes, and even the quiet drama is never boring. Watch it when it hits theaters in the US on January 16:
Keep Up With PopWrapped On The Web!