Rumor has it that Doctor Who has found its next companion - actor and television host Bradley Walsh. Unnamed sources have told the Daily Mirror that the 57 year old former footballer (i.e. soccer player, for the Americans among us) will join Jodie Whittaker's Doctor in the TARDIS. Of course, we should talk this with a grain of salt, since it is coming from the Mirror and has yet to be confirmed by the BBC. Still, it can be fun to speculate about casting decisions, so let's dive in.
Bradley Walsh Allegedly 'Super Excited' About The Role
The 'source' told the Mirror that Walsh is "super excited to be joining the cast of Doctor Who in such a key role," mentioning that Walsh will have to adjust his "jam-packed" iTV presenting schedule. He currently hosts The Chase, Play to the Whistle, Tonight at the London Palladium, and Cash Trapped. Concerned for fans of The Chase, the unnamed source made sure to mention that Walsh "loves that show with a passion" and was "delighted to have found a way" to continue those particular hosting duties, while cutting back or dropping the others.
If the rumours are true, it won't be the first time Walsh has worked with showrunner Chris Chibnall. The two previously collaborated on iTV's Law & Order UK, which ran for eight series, going on hiatus in 2014. After starring in 53 episodes, the actor wanted a chance to explore other acting projects at the network, and iTV decided to put the show on an indefinite hiatus.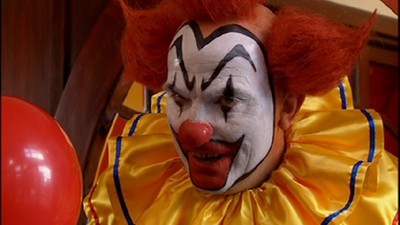 No thanks.
This also won't be Walsh's first encounter with the Who-verse, previously guest starring in an episode of the delightful spin-off The Sarah Jane Adventures. He played an incredibly creeping being - one that terrifies humans and feeds off their fear. The entity split itself into three distinct beings, each of which was played to a chilling degree by Walsh. Let's hope his role as companion is entirely different than that earlier appearance in the Who-verse.
Walsh is a somewhat unexpected casting choice, but one that could make the dynamics in the TARDIS interesting. Aside from Rory, there hasn't been a male companion in decades. In addition, companions have always looked younger than the Doctor, making it appear as though they are travelling with someone wiser. A companion who appears older, but is (likely) a century or so younger could make things interesting, especially if the writers play with sexist attitudes those they encounter hold about the pair in historical (or, sadly, even modern-day) episodes.
Personally, I'm not sure who I would have cast to fill Bill's shoes. Casting a woman to play the role of the Doctor was so important to so many because of a lack of proportional representation on television; it would have been nice to see the show push back against that even further by keeping Bill on or casting another woman of colour in that role. For a show set in all of time and space with an alien hero whose superpower is compassion, it does seem odd that the Doctor has only wanted two full-time companions of colour (and one part-time companion of colour in Mickey). Part of loving a Thing is wanting it to do better; to hold itself to higher standards, right? As someone who loves Doctor Who, I want the show to hold itself to the same standards I firmly believe the Doctor has. For now, these are just rumours, leaving us free to fancast (additional?) companions like Michaela Coel (who just announced the end of her popular series Chewing Gum, freeing her up for regular trips in the TARDIS!)