Brando Eaton was born in Los Angeles, California. His first job was on Nickelodeon's Zoey 101. Since then, he has continued to work in film and television, including CSI, The Mentalist, Secret Life of the American Teenager, Dexter and Alvin & the Chipmunks 2. Most recently, he finished a story arc on the hit FOX show Rosewood. These days, he is one very busy guy. Eaton has recently finished four films, all of which are awaiting release in 2017, and we have an exclusive first look at his next film, Lake Alice, which he also helped produce. The film will premiere at Sundance this year. He also just finished a political campaign tour with independent candidate Gary Johnson (where he got bit by the political bug). Brando Eaton sat down with us to dive into his upcoming projects.
Interview With Brando Eaton
PopWrapped: As someone who is known for being an actor, what got you interested in politics?
Brando Eaton: Basically, what got me involved in that journey -- I have been acting for many years, since I graduated high school, but I've also been studying politics for many years. I studied the guy who started the Libertarian Party. He helped start it; he was the first guy who ran against Nixon that year on the ticket. So that's sort of what introduced me to that world. I was also friends with a lot of the friends of Ayn Rand, the writer/philosopher. A lot of libertarian ideas sprouted from her mindset, as well. Anyway, that kind of put me on that course. I was already -- on my own -- on that course when I was young. I was always very interested in reading those types of books, studying online, and debating it. Anyway, that's how that world kind of dropped into my lap. It's always been an interest of mine or a hobby, really, but I've never talked about it. I never thought I would ever get into politics.
PW: What was your recent adventure on the campaign trail with Independent candidate Gary Johnson like? How did that come about?
BE: It kind of happened because a friend of mine started working with that party. He was doing the videography for them. I was like 'Oh, no way!' I basically told him the story. He said 'Well, you should meet them,' so I did. They were like 'Damn, you know your stuff. Would you like to do a speech?'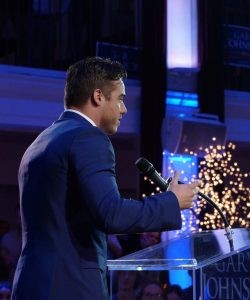 Brando Eaton
...Anyway, it was very well received and the people that were involved with the campaign were like 'let's do this more if you would like to be more involved'. It was new to me because I never talked about politics because it can be very polarizing, especially nowadays where there is so much animosity between the different political groups. It's very divided, so I don't even bother with those types of discussions. I mean, the way I see it, it's mostly those discussions that turn into emotional screaming matches. Just very surface level political discussion -- that [doesn't] really get much done. I see it as: take politics and pretend it's a poisonous plant. We're all fighting over trying to cut off one poisonous leave here or there, and it's just going to grow back. It's not solving anything. You have to get to the root or core of the problem, and that lies in philosophy or philosophical understanding of deeper politics, the cause and effect of economic policies to really get things solved and understood. And, when you talk to normal people that discuss politics, like here in a coffee shop or whatever, those things aren't discussed. It's just surface talks that don't get us anywhere. They tend to destroy relationships, as people get more volatile about it. So that's why I always shut my mouth, and I don't bother.
Especially on this campaign, I had friends that were extreme Hillary supporters as well as Trump supporters. The reason why I was okay with getting involved (and I had people say don't get involved in politics whatsoever -- it will destroy your career) [was] I felt, with Gary Johnson as the 3rd party or libertarian candidate, it's so middle of the ground and kind of my approach with it and talking about the core issues isn't really polarizing. I mean, it's kind of a common ground to be found on both sides of the spectrum, meaning the trend nowadays is more socially liberal, and that's what the Libertarian party is. Then, there's a large understanding of being more fiscally conservative, which is on the economic side and the advantages of that. So it's not very controversial being involved the way I was involved.
PW: What made you go from backing Gary Johnson to possibly considering your own run for office? (You have our vote, by the way.)
BE: I really started seeing a lot of similarities. Like being in the inner workings of the political side, I became friends with him. I met and talked to a lot of the big dogs that run the Presidential campaigns -- a lot of them -- that are really deep in the political world. As I was talking about all of this stuff, I got close to Gary Johnson, who is actually a really nice guy. So anyway, I really started seeing the similarities between that business of politics and this business of the entertainment industry. And, as unfortunate as it is, that's why I've always hated the business side of this business. I've never played it, I've never been a networker, I've never cultivated those relationships -- finding favors for favors. It largely works like that, and I understand that. That's the case in any business, but I hate how that's 100% the main focus and skill, and working your butt off has very little to do with it. I've gotten this far by just slowly climbing the ladder with no help, and -- let me tell you -- if I were more proactive on the business side, I would be a lot more further in my career. It's unfortunate, but it's true. I've learned that now, and I think the mistake I made in my career was -- and this is the mistake humans almost make with everything -- it's: when we really don't like something, we tend to go too far in the opposite direction, to recoil away from it.
As far as the business, I went too far in the opposite direction, as well. I would never go to social events or premieres of mine that I should have gone to. I was being stubborn. I would see too many fake people, kiss-asses. I mean that "Hollywood", that cheesy shit that I see and say 'that's not me' and just say the hell with all that. It took years for me to learn, 'hey, this is a business'. You can, however, do it in a way that is on the middle ground, that's not cheesy, not fake, not selling out and selling your soul. There is a middle ground where you can be genuinely just more open to being social or pushing yourself as a product. Because that's, essentially, what you are in this business. That's the business: you have to be a sellable product. It's not just 'who's the best actor?', or 'who's the best at their craft?'. There is more to it than that. I had to come to terms with that, whereas a lot of the artsy actors will fight that. It doesn't do you any good to swim against the current, especially when there is no changing that current.
I learned to be more savvy on the business side and being more open-minded and understanding of the entire picture. That's what I'm working on now. So we will see what happens, but it's important that I see the similarities. I think that's honestly what's wrong with politics. It's very much the same as the acting business. It's not 'who's the best person for the job?'; it's mostly 'who do you know?' and networking. [It's] playing the game, and that's how most of these politicians rise to the top. They don't know shit about politics. Like the real workings of politics. No one knows. Anyway, I personally feel like, now, because of the entertainment industry and knowing that side as well as having a background and great understanding of actual political strategy and philosophical understanding, I have the tools to make it work to my advantage in that world. I'm not planning on doing anything crazy in the future like run for President -- that's just not an interest of mine. This is still my focus, the entertainment industry. But I could get a campaign together and run for Congress, which I'm seriously considering, by working my way up in that field. It's something I would enjoy and feel like I was making a positive difference. I'm all for it, and I could also focus on acting, producing and writing. I made a lot of great contacts along the campaign trail, so I plan on strategizing and continuing with those relationships, as well. Doing those speeches was almost like an audition. I guess I passed, so stay tuned everyone. I'm also writing a TV project, as well as producing a film with the writer/producer of Dexter. He has a film that he wrote, and I'm coming onboard to that project. It's all heading in the right direction.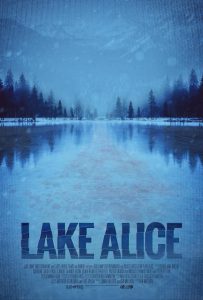 Brando Eaton
PW: On the acting side of the coin, you have four projects coming up in 2017. The first is Lake Alice, which you starred in and helped produce. Tell us a little about its premiere screening at Sundance this year.
BE: It's huge news for me. It's my first time producing on a project as well as starring. Lake Alice is now set to premiere at Sundance in the Indie Lounge this year! I will be hosting a Q&A immediately after, along with the awesome director Ben Milliken. I would also like to give special thanks to Daniel Lindustry for all of his hard work. What a way to start the year. It's a horror film and a hell of a ride for the audience.
Lake Alice Trailer
PopWrapped would like to thank Brando Eaton for sharing his experiences with us. You officially have our vote for Congress x2! (You just need a twin, and you could take over the world.)
You can keep up with Brando Eaton's latest acting projects and new political adventures by following him on Instagram, Twitter, and Facebook.