PopWrapped, as well as many other sources, are confirming that veteran actor and Hollywood's most beloved funny-man has died today at his home in Tiburon, CA. Robin Williams has died at age 63. https://twitter.com/nbcbayarea/status/498964631957028864 In a police report filed by Assistant Chief Deputy Coroner, Lt. Keith Boyd, we learn this on the investigation: "On August 11, 2014, at approximately 11:55 am, Marin County Communications received a 9-1-1 telephone call reporting a male adult had been located unconscious and not breathing inside his residence in unincorporated Tiburon, CA. The Sheriff's Office, as well as the Tiburon Fire Department and Southern Marin Fire Protection District were dispatched to the incident with emergency personnel arriving on scene at 12:00 pm. The male subject, pronounced deceased at 12:02 pm has been identified as Robin McLaurin Williams, a 63 year old resident of unincorporated Tiburon, CA." The report continues stating that they "suspect the death to be a suicide due to asphyxia, but a comprehensive investigation must be  completed before a final determination is made." A publicist for Robin Williams also issued a statement that can be seen in the following Tweet: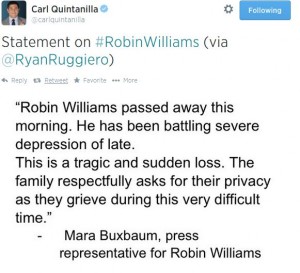 Robin's wife has also
issued a statement
saying, "This morning, I lost my husband and my best friend, while the world lost one of its most beloved artists and beautiful human begins. I am utterly heartbroken. On behalf of Robin's family, we are asking for privacy during our time of profound grief. As he is remembered, it is our hope the focus will not be on Robin's death, but on the countless moments of joy and laughter he gave to millions." The Academy Award winning actor is best known for his iconic roles in
Mork & Mindy
(1978-1982),
Dead Poets Society
(1989), 
Good Will Hunting
(1997),
Hook
(1991),
Aladdin
(1992),
Mrs. Doubtfire
(1993),
Jumanji
(1995),
The Birdcage
(1996),
Night at the Museum
(2006), and
Happy Feet
(2006). Robin Williams also was honored during his career with two
Emmy Awards
, four
Golden Globes
, two
Screen Actors Guild Awards
and five
Grammy Awards
. This is a devastating loss to the his family and friends, Hollywood community, and fans across the globe.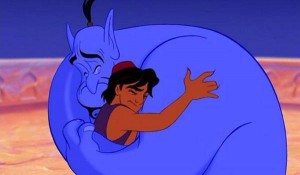 Photo by Disney
Stay tuned to PopWrapped as more information on this shocking loss unfolds.
Keep Up With PopWrapped On The Web!