Looks like Britney Spears is officially the Queen of Celebrity Fragrances! The pop deity makes us "ooh" while putting on a fierce "Private Show" in her sexy new perfume commercial...
While fans are eagerly awaiting a release date (or even a tweet acknowledging) Britney Spears's upcoming studio album, the pop princess herself is keeping busy with a slew of other projects. The "Hold It Against Me" hitmaker just wrapped up a leg of her recently remixed, reimagined, and very iconic Las Vegas residency, she's been Instagramming up a storm of inspirational quotes, and now she's ready to give us a new celebrity scent.
Luckily enough, the scent comes with a teaser of new music as well!
Last month B-Girl unveiled Private Show, the latest scent from her deal with Elizabeth Arden. Inspired by a song from her #B9 recording sessions and her lust for musky scents (and Starbucks Frapps) the fragrance is all about feeling sexy and free. With notes of iced frappuccino, clementine, juicy nectarine, dulce de leek, orange flower, jasmine sambac, luminous amber, and sensual musks the fragrance is undoubtedly one of her most seductive perfumes to date.
And we all know that the best part of a sexy fragrance is the seductive commercial that comes with it. Spears teamed up with ET to give fans an exclusive first look at the commercial and a first listen to new music! 
In the visual Britney Spears effortlessly flips her mane of blond hair, flaunts her hot body in a pair of dazzling outfits, and puts on a private show in an empty theatre. "Swing it to the left, swing it to the right" Spears croons over a soulful melody while dancing on the stage. The spectacle is atmospheric, sexy, and seriously FIERCE. New Britney is on a mission, and she's never looked better. 
Check out Britney Spears's "Private Show" commercial below!
Slay a bit, B! The commercial showcases the classic Britney Spears that we all know and love. She seems to be absolutely at ease on the stage, and we could not get enough of it! 
It's currently unclear whether or not "Private Show" will be included on Britney's untitled ninth studio album or if it will see an official single release later in the promotional schedule. For now, the snippet is a nice sample of things to come. It's interesting to hear Spears delivering striking vocals over a more soulful production, and dare we say that it truly seems like B9 will be the artsy-fartsy opus she promised to deliver last year?
The only question that remains is when we'll hear the rest of the album.
Although over a minute of footage from lead single "Make Me Ooh's" music video leaked over the course of the week, Team Britney has yet to announce plans for an official release. Whether they're waiting for the stars to align or for fans to reach an absolute fever pitch it is becoming increasingly evident that new music is on the way!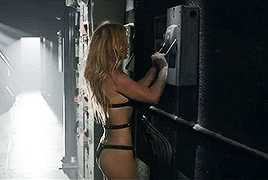 giphy.com
I think that we can all agree that it's time to flip the switch on the project!
What do you think about "Private Show" and Britney's new commercial? Weigh in on it all below!
Pick up a bottle of Private Show from Kohls!