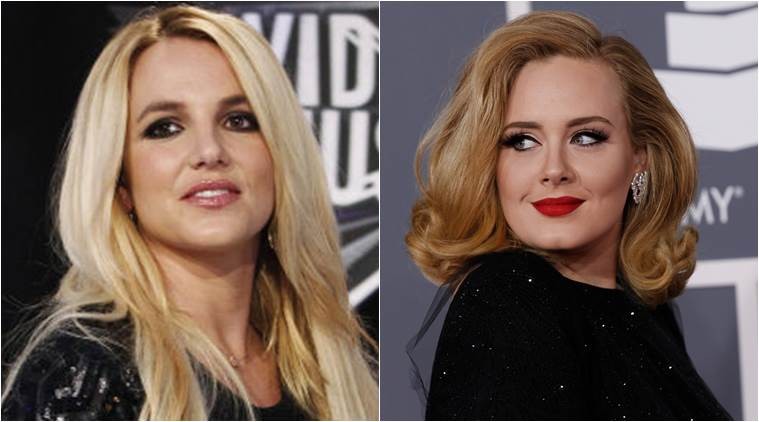 Celebrities; they're just like us.  They drive cars, celebrate major holidays, and LOVE listening to Adele just as much as the next guy.
Pop superstar Britney Spears does all of the above, but most importantly is her status as a fan for her fellow recording artist and gal pal, Adele.
The twosome have traded compliments since last month, when Adele revealed that attending Britney's Vegas show was on her bucket list.  Spears was quick to offer up a pair of tickets in exchange for attending one of Adele's shows later this year, and since then the love fest has continued.
Fans may have been worried that Adele's record breaking release of 25 may quell her relationship with Britney Spears.  After all, the album has smashed a record that Britney has held for fifteen years; but that is decidedly not the case.
Just last week Adele referred to Spears as "the queen" before professing her love.  If you're keeping track of the exchanges, the ball is currently in Britney's court, and she kept things rolling with a dance tribute to her new bestie.
Fans of Britney Spears have recently noticed that she has become increasingly active on social media, particularly her Instagram account in the last month or so.  The "Baby One More Time" icon has a habit of sharing stock photos and inspirational sayings alongside unfiltered glimpses into her real life.  With this is mind, even a casual fan would expect Spears' rebuttal to come from social media, and she didn't fail to deliver. 
On Sunday (November 29) Britney Spears posted a video of herself dancing to Adele's "Hello."  The dancing queen executes some tight turns, proving that it is possible to listen to "Hello" without bawling in a corner.  "I could dance to this song a MILLION times...Love you Adele," Spears captioned the photo.  Too cute for words.
It's so nice to see these two getting along so well! In today's music world there is too much pressure to pit celebrities against one another, so it is refreshing to see Britney Spears and Adele getting on so well.  Who knows, perhaps their love could continue into the recording studio?  B9 is coming sooner than later, so it could happen!
What do you think about Britney Spears's new Adele tribute?  How would you feel about a Spears/Adele collaboration?  Let us know below!