Brock Turner has been found guilty of three felonies, one of which is the rape of an unconscious woman behind a dumpster at Stanford University. Apparently, the young woman had been attending a frat party with her sister. Turner was also in attendance.
If you have been following our coverage of the case, you will know Judge Aaron Presky reduced Turner's sentence from the standard 14 years imprisonment to a mere six months after Turner's family and friends submitted letters of "good character" to the court.
Here is what else we know about the case.
---
Stanford University is not okay with this at all.
Turner's case is the most "shocking" event in recent Stanford memory, according to The Daily Beast. However, it is not the only rape to have occurred on the college campus. According to statistics, "the elite college reported 26 rapes on campus in 2012, 2013, and 2014, according to data from the U.S. Department of Education, or about one sexual assault every 14 days."
That's one rape case every two weeks.
While it took a little over a year to finally get justice for the now 23-year-old woman, the rest of these cases have remained out of the spotlight. Stanford University has "largely kept quiet" about the whole ordeal, finally releasing a statement to the press this past Monday (6 June, 2016).
You can read their full statement here.
---
Carl-Fredrik Arndt and Peter Jonnson have released their own statement about that night.
According to the now 23-year-old victim's account, the grad students were riding by on their bicycles when they noticed what was happening. They then stopped Turner from doing further harm and waited with him for the police to show up.
"It seemed OK at first," Arndt recalled. "Then when we looked closer, Peter started noticing — and I later — that she wasn't moving. It was really horrible. It was hard to see."
"She was unconscious. The entire time. I checked her and she didn't move at all."
While Arndt has chosen to talk about his experience with the case, Jonnson has refused to comment, posting as much to his Facebook wall. He instead urges everyone to read the 23-year-old woman's full letter.
"[It] comes as close as you can possibly get to putting words on an experience that words cannot describe," Jonnson said.
---
Brock Turner will only serve three months of his six month sentence.
According to a document from the Santa Clara County's Department of Corrections made public earlier this week (9 June, 2016), Brock Turner will not be serving out the full six months of his sentence.
The SCC document claims Turner will be released on September 2, 2016, just three months after being booked earlier this month.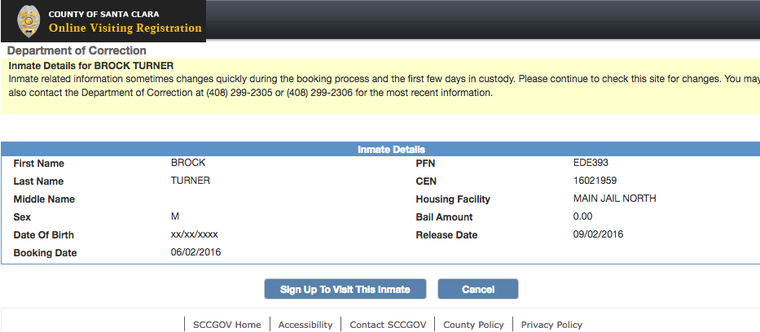 Mic
In a phone conversation with the Santa Clara County Sheriff's office, Public Information Officer Sgt. James Jensen confirmed that the release date in their system (the date on the document) is the date given to them by the courts. Unfortunately, any hope of Turner simply being moved to another facility for the remainder of his sentence "would not be a possibility."
"If it says he's getting released on that date — unless there's some special circumstance and he receives new criminal charges while in prison and were to be charged — that is the date of his release," said Jensen.
No news yet on if Turner's three years of probation (which had been tacked on to his initial six year sentence) will also be effected.