Did you love the 2015 BET Experience this year? So did some of the celebrities we saw at different events, gifting suites, and private parties.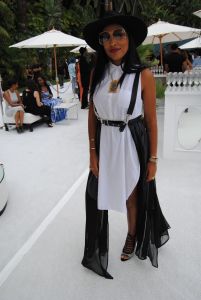 Photo by Celebrity Blogger Tammie Reed.
My colleague Tammi Reed and I were invited to several events, including the Official BET Awards Gifting suite by Illumination PR and I must say, the suite turned out exceptionally well.
Celebrities and media got to take home some of the hottest products on the market like Sean John, Eyecandy Creations with Cynthia Bailey, and Sovage.
Brunch is the thing to do in LA and last weekend was no exception. Celebrities like Jill Scott and Ne-Yo were honored by The 82 Group and the BET Summer brunch brought out celebrities including singer Cassie Ventura, Draya Michelle, and Mercedeh Allen. Wyclef also made an appearance for the BET festivities performing at the Fox Theater in Pomona as part of the Lexus Pop Concert Series, powered by Pandora. I think everybody in the crowd was crossing fingers for a Fugees sighting since Lauryn Hill was in town.
While I hate I didn't make it to all that I was confirmed for, I was glad that I was able to see some of my colleagues taking just a minute to breath before going to the next event.
Check out the photo gallery to see who we caught up with this past weekend courtesy of N.C. Raised L.A Fed.
[gallery type="slideshow" ids="91497,91496,91492,91491,91490,91489,91488,91487,91486,91477,91476,91475,91427,91426,91424,91421,91420,91093,91092,91091,91090,91089,91088,91087"]