Gloria Ayee
Staff Writer
th
Academy Awards on Sunday night, everyone assumed she was joking about her plans to order some pizza. A few minutes later, the Oscars host emerged with a pizza delivery guy and three boxes of pizza, shouting, "Guess what? Pizza's here!" That pizza delivery guy is Edgar Martirosyan, the owner of the Los Angeles pizzeria chain Big Mama's and Papa's Pizza. Before DeGeneres and Martirosyan made their way through the audience, the Oscars host said that she had just been kidding when she told him that it was a backstage delivery. Martirosyan, who was dressed in an apron, hoodie, and red baseball cap, had clearly not expected to serve pizza to celebrities like Julia Roberts and Meryl Streep during the most important Awards show of the year. Maybe Martirosyan should have anticipated that he would soon become one of the most famous pizza delivery guys in America when the Oscars producers sent a
fancy SUV to pick him up
.
Inevitably, the two questions on everyone's mind about "the Oscars pizza incident" were: who was that pizza delivery guy, and how big of a tip did he make that night? DeGeneres asked a number of celebrities to tip Martirosyan, starting with Sandra Bullock, who unfortunately wasn't carrying any cash on her. She later used Pharrell's (now famous) hat as a collection plate.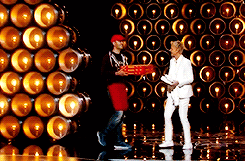 Courtesy of Bhc89
Although it is estimated that DeGeneres collected about $600 (we saw Harvey Weinstein and Brad Pitt reach into their pockets and drop some cash into Pharrell's hat), Martirosyan declined to comment on the actual amount of his Oscars tip in an
interview with USA TODAY
. Regardless of how much money he made from that unusual delivery, Martirosyan is a big winner. After his appearance at the Oscars, Big Mama's and Papa's Pizza quickly ran out of dough and their website crashed. Martirosyan has owned the Big Mama's and Papa's Pizza chain for eight years and manages twenty stores. In his interview with USA TODAY, Martirosyan said that he handles everything, from baking to deliveries, in his pizzerias.
Keep Up With PopWrapped On The Web!
http://www.PopWrapped.com
http://www.Twitter.com/PopWrapped
http://www.SoundCloud.com/PopWrapped
http://www.Popwrapped.Tumblr.com
http://www.Facebook.com/PopWrapped
http://www.Instagram.com/PopWrapped
http://www.Pinterest.com/PopWrapped
http://www.YouTube.com/PopWrapped