What a time to be alive. As a comic book fan, I am gasming at the amount of stuff going into the geeky spank bank. This is just ammunition, this is an addiction and these movie studios are some of the worst enablers, I swear to God. Just look at what I have to deal with.
Comics Alliance
has put together a
nifty little timeline
for what's to come, with what's been revealed so far. This list includes the smorgasbord of fantastic fuckery that DC Comics revealed last week after having been mum for so long. Let me break it down for you by the year:
2014
Disney

will grace us with Big Hero 6 on November 7th. It actually looks pretty interesting.
2015
Marvel

wows us with two films this year, the long-awaited sequel to Avengers premieres, with Avengers: Age of Ultron debuting on May 1st, and followed quickly by Ant-Man on July 17th.
FOX follows suit by unveiling Fantastic Four on August 7th.
2016
Here's where we started to taste the goods.
FOX gives us the long-awaited Deadpool movie on February 12th. Let's see if it's done justice. Speaking of justice...

Warner Bros.

 enters the fray by dropping Batman v. Superman: Dawn of Justice on March 25th. Oh, that oughta be good.
Marvel is back at it with Captain America 3 on May 6th. Here's hoping for some more Steve/Natasha buddy-bonding and Bucky character development.

FOX

swings by a second time this year on May 27th with the debut of X-Men: Apocalypse which actually looks really fantastic. At least from the little teaser seen at the end of X-Men: Days of Future Past (awesome!).

Marvel

, being the powerhouse studio that it is, tells us to "treat yo self" and go watch Dr. Strange which hits theatres on July 8th. Yes, Marvel. Whatever you say.
Warner Bros. treats us to Suicide Squad on August 5th.
Sony then rounds out the year with Sinister Six on November 11th.
2017
And now we're positively 
spoiled
.
FOX starts off this spectacular year with Wolverine 3 on March 3rd.

Marvel

drops an as-of-yet unrevealed movie on May 5th.
Warner Bros. steps up to the bat with the long-awaited and much-anticipated, highly-expected Wonder Woman movie on June 23rd.

Fun fact: the month of June was named after Juno, the Roman equivalent to the Greek goddess Hera. Wonder Woman is known for her catch phrase, "Hera, help me/us." It's fitting a Wonder Woman movie would be set during her patron goddess' month (also the month where most weddings happen, as Juno/Hera was the goddess of marriage).

FOX

greets us again with Fantastic Four 2 on July 14th.
Marvel graces us two weeks later with Guardians of the Galaxy 2 on July 28th.
Marvel is at it again with another unknown movie on November 3rd.

Warner Bros.

hits us with that Justice League movie two weeks after on November 17th. I'm really excited to see this one. I'm curious as to why they're doing it now when the Flash hasn't had his movie yet.
Sony pulls a 'Surprise bitch, I bet you thought you'd seen the last of me' in premiering a female-led Spiderman spin off to hit theatres at a date yet unknown.

Sony 

once again lets us know that Venom: Carnage will be out at an unknown date. Paradoxical, I know.
Warner Bros. wants to tie Marvel's three movies this year with a third movie called Lego Batman on an unknown date, rounding out the year.
2018
Warner Bros.

pulls out The Flash, to speed into theatres on March 23rd.

Marvel

unveils an unknown movie on May 4th.

Marvel

pulls the same stunt again with another unknown movie on July 6th.

Fox

jumps on the "We have no idea what this will be yet" bandwagon with an unknown X-Men movie on July 13th.
Warner Bros. lets Aquaman splash into theatres on July 27th.
Marvel lets us marvel at the amount of unknown movies they have, as yet another one is slated for a November 2nd release. That' s fine; I like surprises.
Sony, who's kept mum for most of this year, pulls together the threads for The Amazing Spiderman 3 on an unknown date. Speaking of which, I should really get around to watching TAS2.
2019
Warner Bros. reveals Shazam on April 5th.

Marvel

seems to really like keeping us in suspense, 'cause yet another unknown movie makes its way into theatres on May 3rd.

Warner Bros.

comes back for round two with Justice League 2 on June 14th. (Hey, that's my sister's birthday!)
2020
We're all dead. Just kidding.
Warner Bros.

has Cyborg in store for us on April 3rd.
Warner Bros. comes back for the brutal fatality with Green Lantern on June 19th. I haven't seen the other one, but hopefully this reboot is better.
In addition to all these movies, we've got others that we know exist but are not yet known when to occur:
Marvel

has Thor 3 (Ragnarok?!) to unveil. This ought to prove to be an epic thing.
Fox plans to produce both X-Force and Gambit. I have my doubts about Channing Tatum as Remy LeBeau (aka Gambit), but we'll see.

Warner Bros.

is absolutely killing it with Sandman, Justice League Dark, an untitled Superman movie and an untitled Batman movie to be put into the works. Like, holy fuck. You're definitely on a roll. The only time you fucked up is when you cancelled Young Justice. I will never forgive you for that. Never. (Unless we get an awesome Young Justice movie?)
That said, our friends (in my head, at least) Comic Alliance, who were kind enough to compile this list, attached a note of caution:
All dates and information subject to change. Marvel is likely to announce one or two further dates for 2019 and two or three dates for 2020. Fox and Sony Columbia have not announced any dates past 2018. Visit COMICSALLIANCE.COM for updates and news.
You can see the line-up in this neat little graphic timeline for yourself here: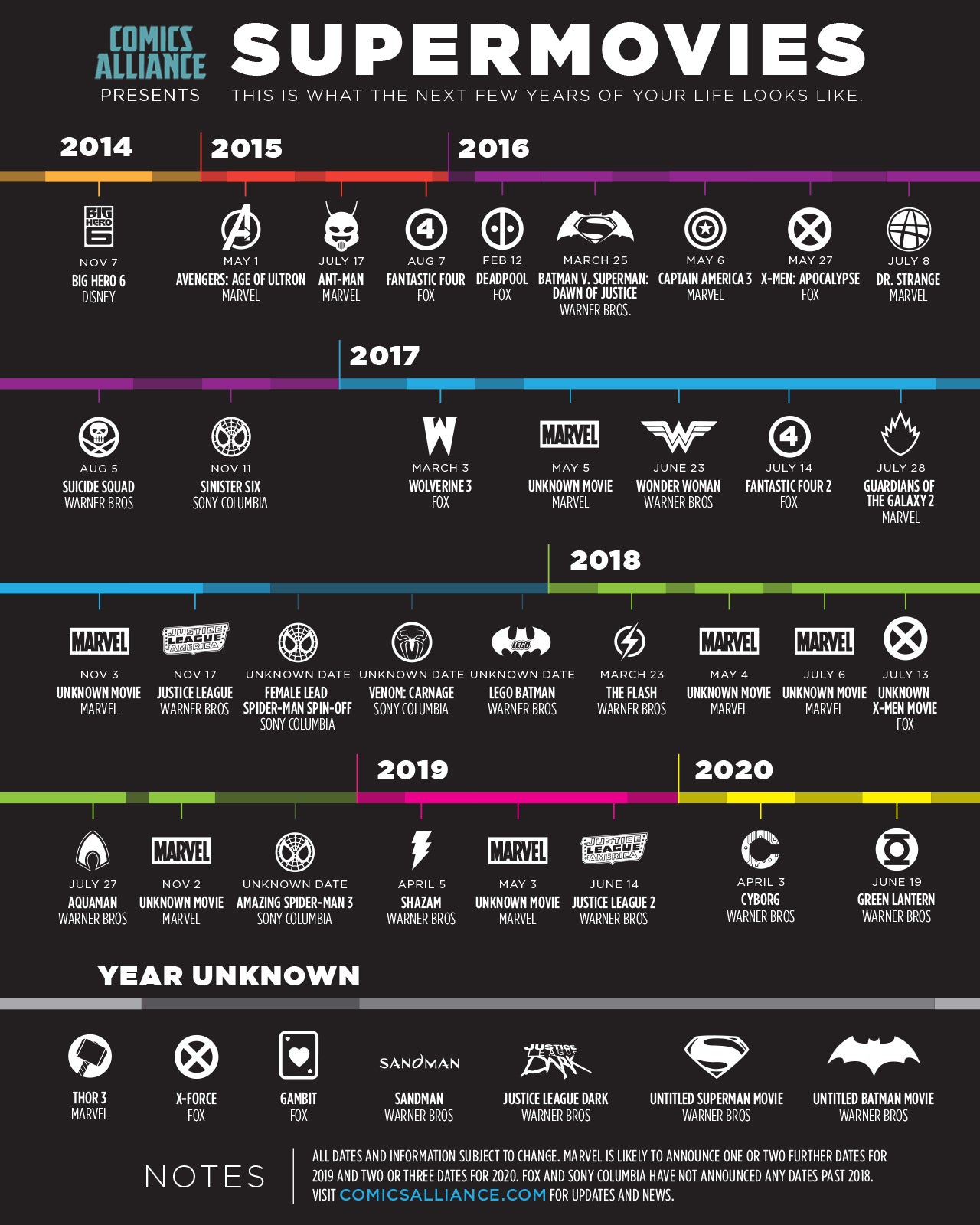 I, for one, am too excited for all these fantastic comic book movies to be unveiled and brought to the big screen. Marvel has been doing a fantastic job with its Marvel Cinematic Universe (MCU) lineup. DC has fantastic ideas in place and has done well for itself as well. Fox has been redeeming itself for the past travesty and sin that was the original X-Men movies, and stepping up with the current X-Men universe. There is so much to be expected, so much potential disappointment and elation. I said it before, and I'll say it again:
What a time to be alive.
Keep Up With PopWrapped On The Web!
Twitter 
SoundCloud
Facebook
Instagram
Tumblr
Pinterest
YouTube