A Canadian professor was fired over violent remarks made on his Facebook page. Rick Coupland, who teaches computer-business courses at St. Lawrence College in Kingston, Ontario, posted a video of a rainbow flag being raised in St. Petersburg. He prefaced the video with his own commentary, "It's the queers they should be hanging not the flag".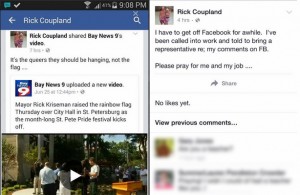 wordpress.com
For perspective, St. Petersburg, Florida is over 1,400 miles from Kingston, Ontario and seems to have committed no offence other than raising the flag. Coupland has so far refused interview requests, nor has he given any indication as to why that particular flag raising set him off. He later asked for his followers to "pray for [his] job".
A former student noticed the posts and brought them to the attention of college administration. The college recently opened up a "Rainbow Way" pathway at their Brockville campus, and have plans for other similar pathways at their Kingston and Cornwall locations to celebrate their "inclusive community".  The college was quick to remind the community of that fact, and to note that Coupland's comments were "not a reflection of our college values". Spokeswoman Kelly Wiley explained that the college has "several policies that apply to the conduct of our employees", including a collective agreement and a policy concerning "outside activities of college employees". The college is also bound by the Ontario Human Rights Code, first enacted in the 1960s, and which prohibits discrimination based on sexual orientation.
Until recently, Coupland also ran a blog called The Israel Truth, which primarily hosted his own "advice" on a variety of health issues. Such "advice" included "say no to vaccinations" and to consume spiruline and chlorello "for both prevention and as a cure" for a variety of ailments. He has since deleted the contents, but nothing ever truly gets deleted on the internet.
Full disclosure here: I'm a resident of Kingston and a graduate of St. Lawrence College. In fact, Coupland taught one of my courses, though I honestly can't recall which one. As someone who identifies as one of "the queers" my former teacher wants to see dead, I was happy to see the following post on their Facebook page:

Recent Canadian statistics state that more than one in five students who identify as LGBTQ were physically harassed or assaulted due to their sexual orientation, and not surprisingly, almost two thirds don't feel safe at school. These stats are alarming  and emphasize the need for schools to employ teachers and professors who are committed to creating and participating in a "more respectful and welcoming" community for all.