The 2015 edition of Cannes is over, and one of the most talked about events at the famous film festival had nothing to do with movies.
Festival officials met with a deluge of ire when word got out that women had been turned away from a screening for the crime of wearing flats instead of heels. Apparently, a member of personnel told the ladies that heels were necessary to meet the evening dress requirements for admission. Ironically, the film the women were trying to see was the Cate Blanchett vehicle Carol, which carries a strong feminist message.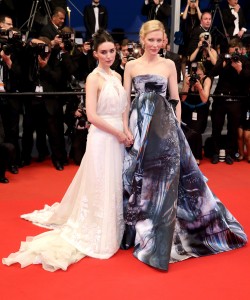 CANNES, FRANCE - MAY 17: Rooney Mara and Cate Blanchett (Photo by Mike Marsland/WireImage)
Similar reports followed of other women who had been questioned because of their footwear. Asif Kapadia, director of the new Amy Winehouse documentary, claimed that his wife had almost been rejected from a screening, but was eventually let in.  Even a woman with a partial foot amputation, film producer Valeria Richter, said she was stopped several times by security before being let into a premiere and had to "wave her foot" at personnel to prove her reason for not wearing heels.
Festival director Thierry Fremaux attempted to assuage the furor and accusations of sexism by stating that "heels had not been required." He claimed that the situations that arose at the festival were the result of miscommunication and some employees' overly-stringent interpretation of the dress code.
Whether Fremaux's claims are true or not, let's hope all the controversy means this won't be an issue at Cannes next year. Women are worthy of respect and fair treatment no matter what kind of shoes they wear.
If the head honchos at Cannes don't realize that, they may have to deal with a whole lot of ass-kicking from female feet of all varieties.