Entertainment Weekly is known for providing us with first looks and exclusive photoshoots from highly-hyped films and Marvel's long-awaited Captain America: Civil War is no exception. Cap, Iron Man and Black Panther have landed on the front page of the magazine's latest issue and taken over the cover story.
Chris Evans, Chadwick Boseman and Robert Downey Jr. are seen standing in line with an eye-grabbing Captain America: Civil War headline in front of them, accompanied by the caption "The biggest Marvel movie yet introduces Black Panther; He's tall, powerful - and has claws that a real housewive would envy". If anything, they all look superb and totally badass here, adding to the buzz created by the recently released trailer for the upcoming superhero flick. However, it's nice to be given a better look at the Black Panther and realize he's perfectly suitable for a solo movie.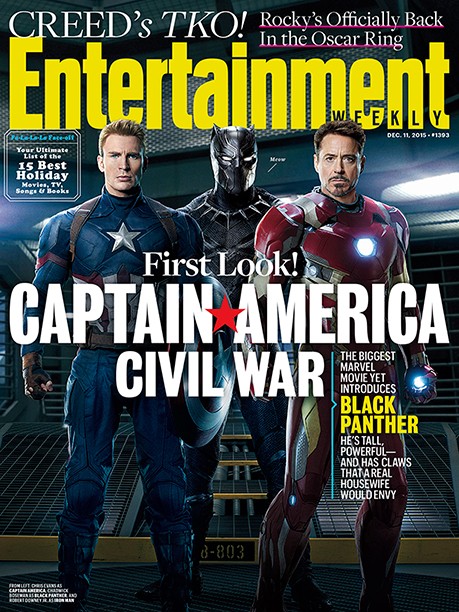 Courtesy of Entertainment Weekly
The bone of contention between the two beloved Avengers seems to be the independence seeked by Captain America, in contrast with Iron Man's support towards the government's control, as the latter is affected by the consequences of his actions in The Avengers: Age Of Ultron. With everyone taking sides, it should definitely turn out to be a Civil War to remember!
https://www.youtube.com/watch?v=uVdV-lxRPFo
The magazine also managed to acquire a bunch of exclusive photographs from the movie, which can all be seen below.
[gallery type="slideshow" ids="118274,118273,118272,118271,118270,118269,118268,118267"]
Captain America: Civil War is scheduled to open in theaters on May 6, 2016.