Carly Rae Jepsen has left Cinderella's ball and finally returned to the world of pop music by releasing her newest single, "I Really Like You." She wants her crush to know that she isn't quite in love, but she really, really, really, really, really, really likes him. The '80s inspired track was written by Carly Rae Jepsen, J. Kash, and Peter Svensson. Svensson also produced the track.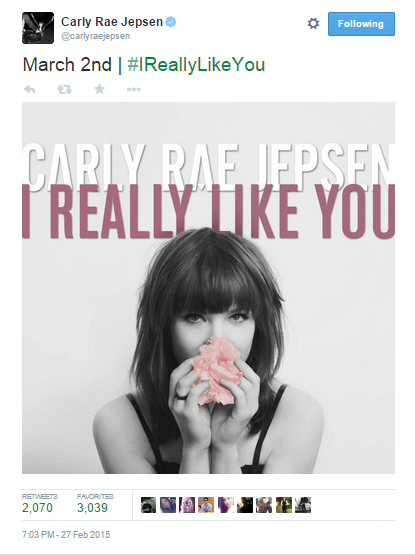 Courtesy of Twitter
"Peter Svensson wrote one of my all-time favorite songs, 'Lovefool,' and working with him made me rediscover the joy of writing something that's just pure pop," Jepsen says. "Lyrically, it's about that time in a relationship when it's too soon to say 'I love you,' but you're well past, 'I like you' and you're at the 'I really, really like you' stage." This is the first song we have heard from Jepsen since she crossed over to Broadway to play Cinderella in 2014. The really catchy and repetitive single is the follow-up to her smash pop hit, "Call Me Maybe," which was released three years ago. Jepsen released a few other singles after "Call Me Maybe," but none of them were quite as popular. Hopefully that's not the case with her new single and album. A release date has not been set in stone for the album, but something is slated for release this summer.
Keep Up With PopWrapped On The Web!