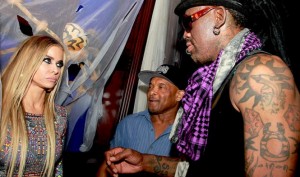 Courtesy of: The Puffington
Talk about awkward.
This weekend, Carmen Electra was hosting Halloween bash "Fright Night" in Florida, when she had one spooky encounter with ex-husband Dennis Rodman. While hosting the bash, Carmen was shocked to find out Dennis was waiting for her on the red carpet, and remained in her vehicle while her security team arrived to assist her should she need it. It should also be noted that the event was invitation only, and Rodman's name was NOT on the guest list. Carmen exited her limo only to have Dennis make a mad dash to be by her side, and she was probably very surprised by his actions. According to sources, Dennis even proposed marriage once again to her!! Carmen is said to have laughed it off, and her security detail had him removed from the party. He did manage to sneak in a few more times however. Dennis and Carmen were married back in 1998, but the marriage was short lived following a domestic violence incident in which they were both arrested. This all comes on the heels of Carmen sitting down with Oprah and explaining that:
"When it was good, it was amazing. And when it was bad, it was the worst."
Keep Up With PopWrapped On The Web!
Twitter 
SoundCloud
Facebook
Instagram
Tumblr
Pinterest
YouTube