Nashville-based duo Cassio Monroe are currently at a pivotal moment in their career. Tripp Weir and Jeff Garrison's last single was "Under The Lights," an anthemic pop track released in 2014.
Now, they're, in their own words, ready to get back out there, play shows, and see their fans again--and bringing a brand new single along.
They took some time out on Halloween to sit down with me and chat about their band's beginnings in a Nashville Starbucks nearly 3 years ago, having the courage to overcome a little white lie and kickstart their careers, and how every single thing they do always comes back to one steadily growing group of people--their fans.
PW: Tell me about how Cassio Monroe came together.
Jeff: CM started at a Starbucks in West Nashville.
Tripp: Yeah, it's coming up on 2 ½, 3 years now; it's evolved a lot since it began. We got together and we had written five song titles, for whatever reason. That was on Monday and, on Tuesday, we decided we needed to write all those songs that day because we were so excited to do it. That night, Jeff had an open mic; he had the genius idea that even though we just wrote these songs today, we should definitely play them out in public...because they're ready.
Jeff: All the parts of the song that we didn't have finished, we'd just make something up on the spot. We were having a ton of fun, and this girl named Phoebe happened to be there who worked at our publishing company, who we're currently working with. The next day, she set up a meeting with the president of the company, Cliff. We met with him and, going into the meeting, I was like, "Tripp, let's not tell him we've only been a band for three days...but we won't not tell him if he specifically asks." The first question: "So, how long have you guys been a band?" We both had a blank stare, and then I was like, "Uh...since November." And it was November at the time.
Tripp: So, Cliff took it that we'd been together for a year. A couple of months passed and we were turning in a bunch of material, and we finally told him; he got a really big kick out of that. We've been with him ever since.
PW: Inspiration behind changing the original band name?
Jeff: Originally, when we met up, Tripp was doing an underground thing, and I was doing singer/songwriter, acoustic music. But we both loved pop songs. At the time, we felt like it was this gimmicky pop world, and we loved that. It was kind of an alter ego for us. As the band progressed and we saw a lot more depth to each other's individuality and how that strengthened us as a group, we just didn't feel like a gimmicky pop group anymore. Even though we still love pop, there's a little bit more of a serious element to it.
Tripp: I think it was a part of the maturation process for us as artists. Again, we got signed three days into being a band and we didn't even have a band name. We named our EP, which also didn't exist, Gimm And Icky. And then we realized really quickly that it has a very negative connotation to a lot of people.
Jeff: Tripp always says it's like a Venn Diagram--it's these two individual circles that overlap in the middle, and that's Cassio Monroe. It's actually Cah-see-oh Monroe, but everyone started saying Cah-si-o, and we just went with it. Cassio is a character in Othello, and then Marilyn Monroe. One is a classic beauty, and the other is a writing genius with Shakespeare. They're two things that are art in their own respects, but sound good together and somehow work.
PW:You're great putting a unique spin on your covers--do you set out intending to make it unique, or is it something that happens naturally?
Jeff: I think it's just something that happens, because when we get together, we just go and we don't really think about it until after we get an idea fleshed out. I think we create and then ask questions later, and that's why sometimes we deviate.
Tripp: We approach things so differently, because we have such different musical backgrounds. We agree on a song we wanna do, and naturally, it comes out differently from what the other expects in the beginning. We're also good about giving each other creative freedom. We wanna pay homage to the artist because we loved the song enough to cover it, but we want everyone to know it's us as well.
PW: You've already opened for some established artists--The Wanted and Nick Jonas. What have you learned from travelling the country with them, either for your music or performance-wise?
Jeff: You learn a ton just being around those kinds of artists, but one of the things that I didn't think that I would learn is that they're really just people like you and me, who are doing their best too. A lot of times, in our heads, there's a mystique about them. When we met Nick, he was more concerned about whether we felt taken care of than anything else. Really polite, and that's just cool to see.
Tripp: As far as the performing side it goes, there's a certain level of professionalism. The Wanted and Nick have that in common. There's an extreme awareness to the audience that Jeff and I have picked up from them; to be onstage in front of that one audience for that one night and not taking it for granted, and making sure that you put the time in beforehand to make sure the show is the best it can be. The Wanted were awesome at doing that; all the little things that happen before a show to make a show, they made sure it was all in line. Nick's also a perfectionist when it comes to that as well.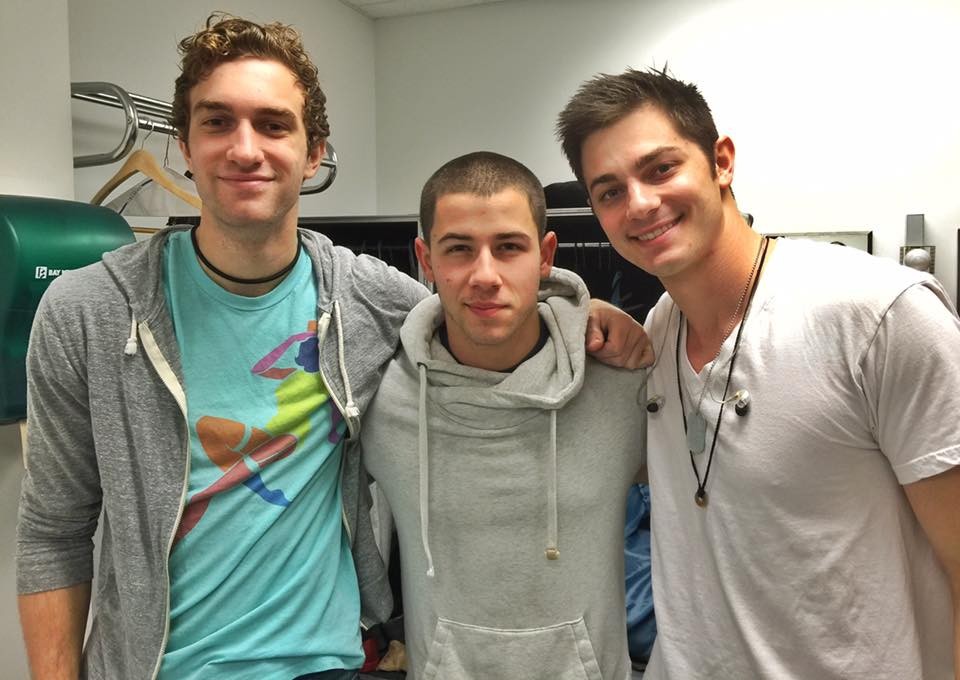 Credit: CM
Jeff: When you see another artist that's put together a show, it inspires you to make you want to improve your own live show and artistry. One thing that I saw on The Wanted's tour that I think is the coolest thing--Siva would get letters from fans, and every time he writes and is working on a song, he uses those as his lyric sheets. He writes on the back of them, he's constantly putting his fans in front of him and reminding himself why he's doing something, it's for his fans. The backdrop on their tour was a fan-made piece of art. They found really cool ways to interact with their fans.
PW: What's your favorite part about performing?
Jeff: That's like asking somebody what their favorite part about dessert is; the answer's the whole thing. My favorite part is the feeling--it's like a masquerade. Maybe it's just me, but artists are very self-aware people; you kinda have to be. We're self-conscious about the things we create, to a certain extent. When you're creating, singing, and performing, you're able to tap into this thing that eliminates all of that. You're in this place where you feel completely confident in everything you're doing. That feeling is rare, I think. It's really cool to interact with fans, too, and see the people who wanna see you.
Tripp: It's definitely the interaction that's, above and beyond, my favorite part. Tour life can be difficult at times, with freak schedules and close quarters, but every time you're onstage, it's this magical moment. It's the greatest feeling in the world to know that you're having a great time because they're having a great time.
PW: What's your relationship like with your fans? Have there ever been surprising moments where you were shocked to see that people were so dedicated?
Jeff: At the Nick Jonas show, we had some fans that drove five hours just to come and see us, and they left the show early just to come and say hey while we were loading up our stuff into the trailer. We were able to hang out with them for fifteen minutes; that type of stuff sticks with you and humbles you.
Tripp: Those two girls that Jeff is talking about drove all the way from Brooklyn and then they had to leave before Nick was even done just to get home at a decent time. We recognized them from three shows with The Wanted and then one show on our last Northeast tour. It's been so cool to recognize fans; it's like seeing friends.
Jeff: It's really cool putting a face and a name to Twitter handles as well. That's been fun.
Tripp: We do know each other, even though we've never met. We talked about whatever we did on Twitter, whether silly or serious.
PW: What can fans expect from the new single, "No Guts No Glory"?
Jeff: We think that this is a big step forward, and fans should expect that with this. We feel really, really proud of it, and I think we're ready to start going out, playing shows, and seeing fans again.
Tripp: A while ago, when we did "Under the Lights," we realized how important it was to put in a little of our personal experiences, and also everything with a positive attitude twist on those. This song is a continuation of that--there's a lot of ourselves in it, but it's very positive. There are scary moments in life, but that fear is a good thing. When we're uncomfortable, we grow from that. It's the next step in our journey, and another side of our personalities.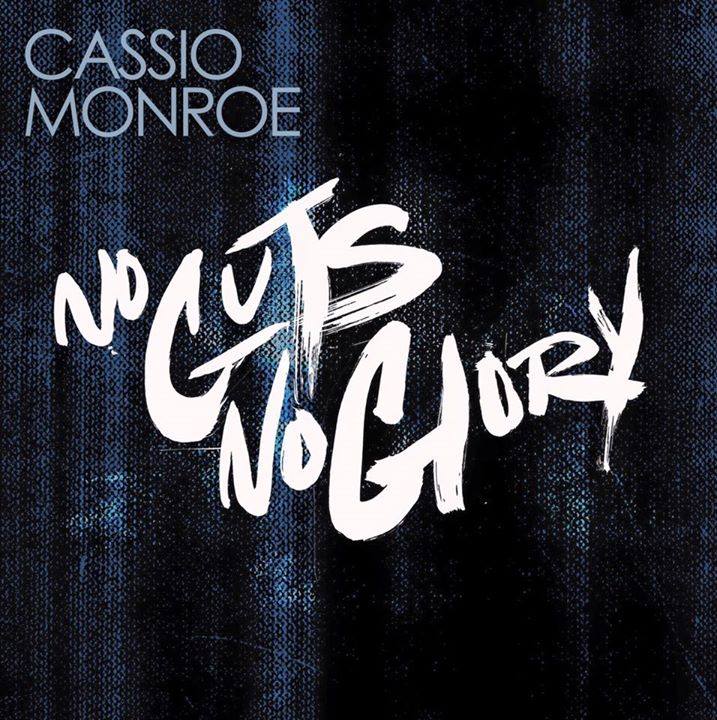 Credit: Cassio Monroe
Jeff: That's one thing that Tripp and I try to focus on. We try to take things that are difficult in life and put those in an atmosphere that's fun, easy, and feels good. Our hope is that those difficult things will be fun, easy, and feel good too.
PW: What do you want future fans to know about Cassio Monroe? Why do you do this for a living?
Jeff: When Tripp and I are writing, we're writing something for ourselves from our own life experiences, but our belief is that, when we finish a song, it no longer belongs to us. That song belongs to our fans. It becomes somebody's song to inspire them right before they go run in a track meet, somebody's first dance, somebody's first kiss, somebody's breakup song maybe. For a new fan, we wanna tell them that when you go to our shows, you aren't stepping into our world for a night. We're trying to create a world where everybody's involved. We're just a part of that world and helping to shape it as well, but everyone can help, as far as our fandom.
Tripp: We value our fanbase as a whole, and as individuals as well. We're really adamant about making sure that they feel connected. As he said, it's not our song anymore. We have a very interactive show and are constantly trying to find ways to make sure they feel involved, and actually are involved.
Jeff: We might have the smartest fans in the world--some of the ideas we talk to them about are just brilliant, and we love to interact with them. For new fans, we want to know you.
The lyric video for "No Guts, No Glory" was released on Friday (Nov. 6), much to their fans' obvious excitement.
As promised, it's a step forward--an infectious instrumental track about taking risks that highlights the duo's strengths both vocally and lyrically.
Listen below, and let us know what you think! It's available now on iTunes.
For more on Cassio Monroe, check out their official website and give them a shoutout on Twitter!