And it's that time of year again,
Castle
fans: Finale Time. Now let's get into what really happened when we went into Hollander's Woods. As a woman runs through the woods, her face smeared in blood and carved with symbols, we can feel her fear radiating through the screen as she's chased through the deep dark wood, to the deep dark road, in front of the big ass truck... Got less poetic towards the end, right? So Castle and Beckett investigate as a welcome break from "Pick which big head is best" for Castle's award ceremony, where he is receiving an honour from the Mystery Writer's circle. When they arrive to the scene of the crime, Castle gets spooked when he sees the symbol carved on the woman's face. He tells Beckett they need to talk to the truck driver in the hospital. When the driver tells them about the ominous figure that chased the woman through the woods, Castle was able to describe him perfectly, down to markings on his mask. Because Castle had met them before: Flashback time. When Castle was 11 years old, he went on holidays to a friend's house near Hollander's Woods, and went exploring. He spotted a caped figure standing over something that then disappeared. He went to investigate and found the carved up face of a woman whose eyes were filled with the glassiness of death. He touched her arm and had never felt anything so cold. Then the figure grabbed him by the collar and pushed him against a tree, knife flush to his skin. "Don't tell anyone what happened here. I will find you, and I will kill you." He lets baby Castle go, who then went to a payphone and developed a need to solve the mystery and find the story, because he was never able to solve this one. And apparently I pay more attention that Kate Beckett, as Castle told her this story when they first met (albeit with minor adjustments) and she says she never heard him talk about it before. Tut Tut. It's okay Beckett, you have your own problems...but we'll get to that.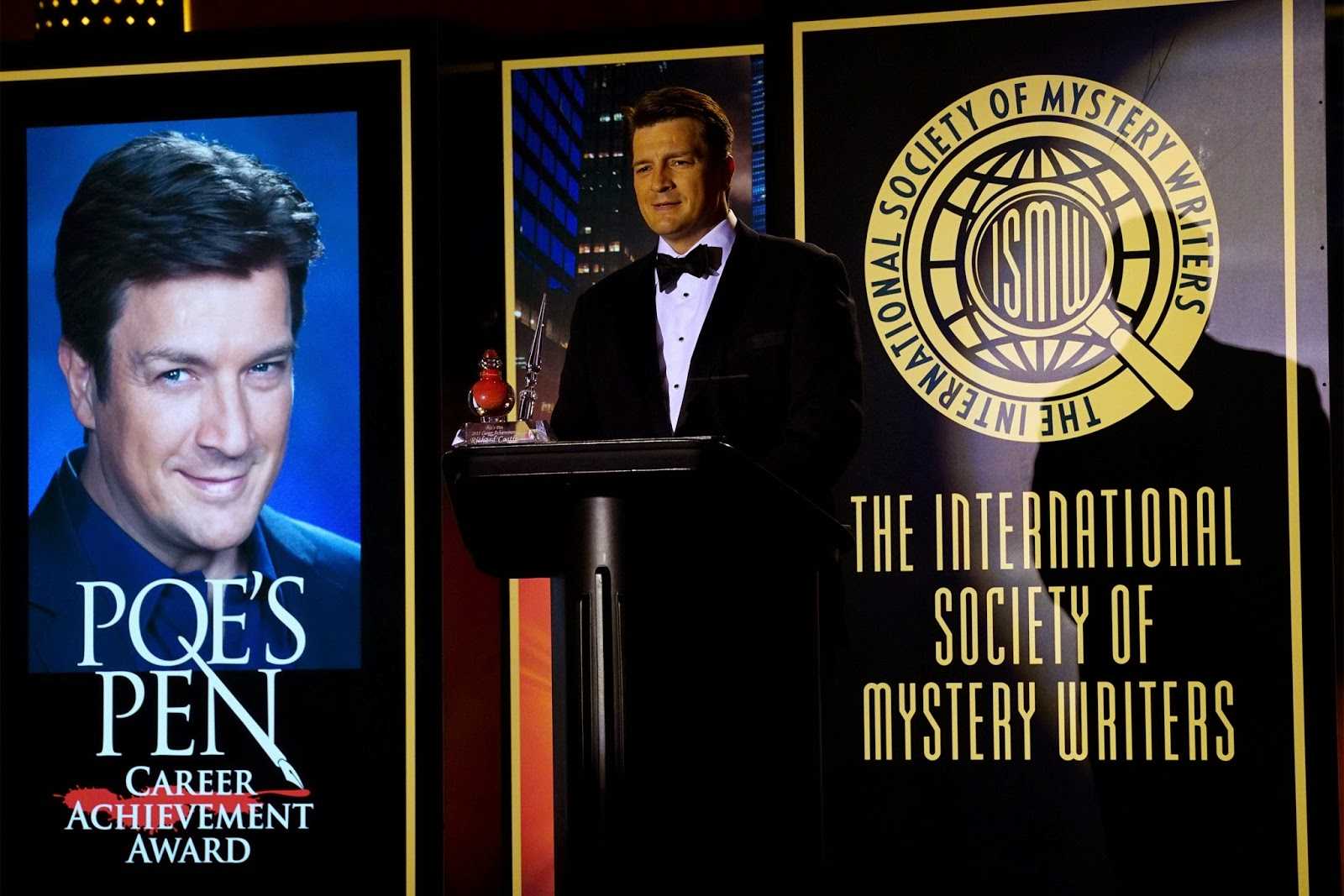 Courtesy of castlespoilers.blogspot.com
Anyway, they try to find out Jane Doe's name based on a key to a motel she had, which reveals nothing other than a dozen pictures of a woman's face and a list of license plates. They find the woman's father—her name is Emma Malloy—and she was searching for her friend Zoe Addison , who had gone missing and was last seen getting into the back of a white Sedan with a license plate featuring the letters x and z. Ryan and Espo run the plates and track it to a Connie Lewis. They go to Connie's house, and she's been dead for four years. Which is when they meet her son Noah, who shoots at them all through a false door behind a wardrobe. He is taken in for questioning, and it is revealed that he has Borderline Personality Disorder. Castle's a little bit upset to think that this is the killer he has always feared—he always sensed he's be more formidable. They visit Noah's psychologist, and on hearing him speak Castle realizes, "This is the man who let me go in the woods. This is the real killer." Even Beckett finds it hard to believe Castle this time, and this upsets him greatly because she has always had his back, even through the wildest theories. He says he would never forget that voice. She comes around, quickly, and finds the psychologist's hidden house, where he is the sole trustee. She has no warrant, so she sends Castle to solve his life-long mystery. They pull up to the Cabin in the woods and Castle breaks the chain locking the door. Aside from creepy Kabuki masks, and porcelain dolls, Castle finds a book of the victims—before and after death pictures. Then the killer confronts him, attacking him, just as he is about to escape. We come full circle, as the killer pushes the knife into Castle's neck, blood dripping down his skin, the serrated edge tearing his neck open. Castle breaks an arm free from his captor, thrusts it under the door---where Beckett is waiting with a gun. 3 shots and the killer goes down. And Castle finally gets closure, and an award to boot. It's a good day for Rick. Now to Beckett: Gates calls her into her office to tell her she has a performance review. Beckett is spooked, as she doesn't know why she would be getting one, as it is not protocol for the Captain's exam. She arrives at the meeting, where she is asked what makes her think she can be captain. An then she is asked why she thinks she is fit to be a detective, after all the laws she's broken in order to catch a killer and that she would never be fit for Captaincy. A downtrodden Beckett is about to leave, when she stands her ground—she lets them know she has been instrumental in finding killers and solving cases, and Castle as her partner is a worthy ally. She's about to leave when—Psych! They actually love her, and wanted to see if she could stand up to criticism because they want her to run for State Senator. Go Kate. And was Kate not drinking for a particular reason? I guess we'll find out next season. And that's the end of that chapter. What did you think of the season 7 finale, folks?