A newly classified species of catfish has been drawing attention around the world, mostly due to its delightfully nerdy name. Due to its large, puckered lips and bulging eyes, the catfish has officially been given the
scientific name Peckoltia greedoi
. It was named after the
Star Wars
character Greedo, the Rodian bounty hunter who famously encountered Han Solo in the Mos Eisley cantina in the first
Star Wars
film (for the record, Han shot first).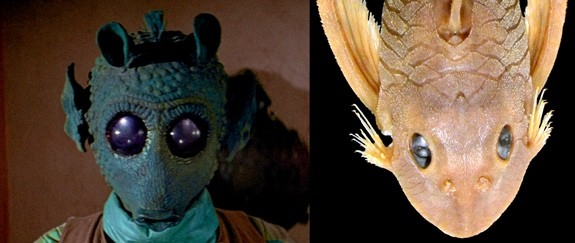 livescience.com
"I think it was the whole package that evoked Greedo, but particularly the eyes and the underslung mouth," said Jonathan Armbruster, biological sciences professor and curator of fishes at the Auburn University Museum of Natural History. "As a 7-year-old kid, I watched
Star Wars
 in the theater, and it was a life-changing experience for me. I became a lifelong fan, and I now share that with my son. Greedo has always been a personal favorite of mine." The catfish was actually discovered in 1998 in Brazil, when a specimen was given to a museum in Porto Alegre. That was where Armbruster found the specimen, which he then classified as a different existing species of catfish. He claims, however, that "I had not been comfortable with that designation." He reexamined the specimen last September and, with his colleagues, realized that they were not looking at Peckoltia vittata, the species it was originally labeled as. It was then that they had the epiphany that this fish looked pretty much exactly like Greedo. So readers, can you see the resemblance?
Keep Up With PopWrapped On The Web!