Jonathan Frahm Staff Writer
@JNoodles_ A Pennsylvania Catholic school principal is in hot water on the internet this week after issuing out invitations to an Oscar-themed graduation dance which incorporated Ellen DeGeneres' likeness on their front covers. It's not for accidentally disobeying any so-called irrevocable religious doctrines, however. Instead, Nancy Matteo is receiving the metaphorical barrel of a moral cannon after subsequently realizing Ellen's LGBT-friendly image and calling for students to turn the invites in for brand new ones with "Catholic-friendly" imagery.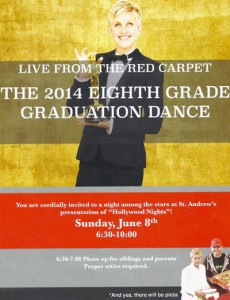 Philly.com

It is now a mission for Matteo, who is principal of Saint Andrew Catholic Elementary School, to let her students and their parents know that it was "completely wrong" of her to use Ellen's likeness on the cards as she "lives her life outside the teachings of the Catholic Church." Matteo's calling herself "stupid" for releasing the invites with Ellen's face in the first-place, whereas a series of unabashed LGBT commentators are calling her the exact same thing for the exact opposite reason. While it's to be expected of traditional religious entities to embrace such a shallow-minded way of thinking, it's also something to hope that they would do the unexpected through embracing complete and unequivocal love for all. Luckily, Matteo is actually in the minority here as the majority of Catholics have been reported to support equal rights for gay, lesbian, and straight couples according to a survey taken last year. With that in mind, I'm more concerned for Matteo because of the staunch legal rights associated with Oscar-related imagery. Was that Ellen pic taken with proper credit given? Aren't schools supposed to support proper citation? Keep Up With PopWrapped On The Web!