Get ready to kick off the new year with a new suspense drama airing on CBS. Ransom will premiere on New Year's Day.
Ransom stars Luke Roberts (Holby City, Black Sails) as crisis and hostage negotiator Eric Beaumont. Eric leads a team that solves complicated kidnap and ransom cases. Pscyh-profiler Oliver Yates (Brandon Jay McLaren), ex-cop Zara Hallam (Nazneen Contractor) and aspiring investigator Maxine Carlson (Sarah Greene) fill out the rest of Eric's team.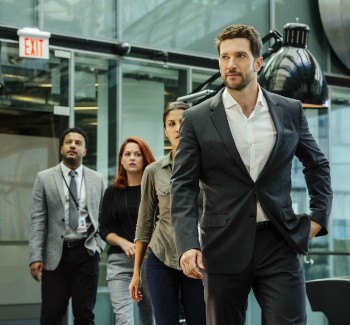 CBS
The stakes are high, and it's up to them to save lives without resorting to violence. Eric uses his knowledge about human behavior to solve cases that no one else can. While that's an extremely beneficial skill for work, this creates tension with friends, family and colleagues. The series kicks off with Eric bringing Maxine to the team. What he doesn't know is that she has a dangerous secret from her past that may threaten the team or a case.
Ransom was created by David Vainola (Combat Hospital), who was inspired by the real-life experiences of crisis negotiator Laurent Combalbert and his partner Marwan Mery. Frank Spotnitz (The X-Files, Medici: Masters of Florence) is producing the 13-episode series. Richard Lewis (CSI: Crime Scene Investigation, Person of Interest) is the director.
"The world of crisis negotiation is incredibly compelling, as demonstrated by the fascinating real-life cases Laurent Combalbert has negotiated," Spotnitz said in a statement. "Laurent has inspired a brilliant and complex character, and you can't help but be moved seeing all the lives he's saved around the world."
Check out the trailer below.
Ransom Teaser Trailer
Ransom premieres on Sunday, January 1st at 8:30pm. However, don't get used to watching on Sunday nights. After its premiere, Ransom will move to its regular time slot on Saturday nights at 8pm, starting on January 7th.
Let us know if you'll be tuning in with us!