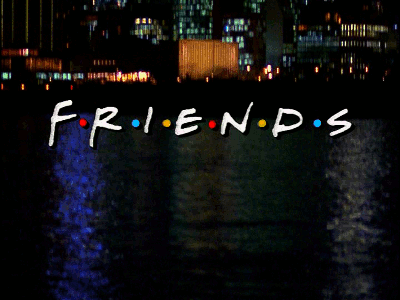 Roshani Jain & Tarra Matthews Staff Writer & Senior Content Manager @Roshani_j & @tlcm_16
Have you been feeling about the show
F.R.I.E.N.D.S.
and if you are anything like me, that is a weekly thing because yesterday, May 6
th
was their 10-year finale anniversary. Quick history about them, the show
F.R.I.E.N.D.S
aired from September 22
nd
1994- May 6
th
2004. It revolved around the lives of six friends - Chandler, Joey. Monica, Phoebe, Rachel and Ross. Their season finale got the attention of 52.5 million viewers, yet still stands #4 on the most watched series finales, behind 
M*A*S*H, Cheers and Seinfeld
. And now the thing you were waiting for, 10 things you
might not have known
about
F.R.I.E.N.D.S.
1. The story line for the triplets was there to cover up Lisa Kudrow's real life pregnancy of her son, Julian.
2. Before settling on 
Friends
,
other titles
producers considered were 
Friends Like Us
, 
Six of Us, Across the Hall, Once Upon a Time in the West Village
and
Insomnia Café.
3. Not only were Chandler and Phoebe supposed to be the supporting characters, Monica and Joey were supposed to be the show's main couple.
4. I am sure most of you know about Ursula Buffay, Pheobe's evil twin, but did you know that Ursula was a recurring character on NBC's
Mad About You
. The story line about Ursula was added so as to not confuse the NBC's viewers.
5. Not only was David Schwimmer the
first person
to be casted and his character, Ross was written, keeping him in mind, he has also directed 10 of the episodes. Now, that's what I call multi-talented.
6. James Michael Tyler, who played Central Perk's hapless barista Gunther, was originally asked by an assistant director to be an extra because he knew his way around an espresso machine. His character was never intended to speak, have a name, or act as anything more than that.
7. Now there are many unfair things in the world, a major one being that Courtney Cox was the only cast member not to get an Emmy nomination for her work on the show. It's okay Monica; you still will always be my favorite.
8. If you remember in the last episode, "The Last One, Part 2", they all realize that they have lived in Monica's apartment at least once in their lifetime, maybe this piece of information wasn't iconic enough but all of them have also lived in Joey's apartment at least once.
9. The full names of the characters are:
Chandler Muriel Bing
Rachel Karen Green
Ross Eustace Geller
Monica E. Geller (Not once have they mentioned what E stands for)
Joseph Francis Tribbiani Jr.
Phoebe Buffay (she never knew her middle name since she had never seen her birth certificate)
10. If we do follow the
F.R.I.E.N.D.S.
timeline:
Monica and Chandler's twins would be 9 this year
Emma would be turning 11
Phoebe's triplets would be 15 in October
And Ben would be 18 in May
One bonus points because us F.R.I.E.N.D.S fanatics totally deserve it:
11. Not only did Martha Kauffman and David Crane co-create
F.R.I.E.N.D.S
, they also
co-wrote
the show's theme song, "I'll Be There For You" along with the Rembrants.
Keep Up With PopWrapped On The Web!