Matthew Jenner Staff Writer @MovieUnchained
From the world of music, cinema and fine arts, there is not a realm of arts the legendary Andy Warhol didn't explore or influence in some way. Film director, artist, music talent scout, author and one of the leading figures of the pop culture revolution, there was nothing Andy Warhol could not do. It is impossible to choose where to start with Andy Warhol - he was such a jack-of-all-trades and very extraordinarily master of all of them. Perhaps his greatest contribution to culture was his creation of what we now know as pop art. His simplistic painting of a singular can of Campbell's Tomato Soup and his iconic pictures of pop culture figures such as Marilyn Monroe presented as four contrasting portraits in vivid colors have defined art, and served as a transition from early 20th century art to the more odd contemporary art of today.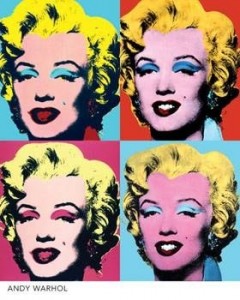 photo by art200cuestacollege.wordpress.com
Warhol had a studio that was far beyond simply a place for an artist to create - he lured a whole variety of interesting characters to the New York landmark, including small-time musicians, drag queens, performance artists, poets, celebrities and the odd homeless person even. It was here that some of the most influential underground art was established - films that would help define independent cinema, music styles never heard in the mainstream before and ideas that could move the world all sprouted out of the minds of Warhol and his panoply of odd friends in that studio in the 1960s and 1970s. As a huge film fan, it would be wrong of me not to mention Andy's most underrated efforts; his attempts at film-making. Andy's films are not ones you will find on the "Highly Recommended" shelves at your local video store. His films were experimental, weird and incredibly divisive. Andy was a true pioneer of independent cinema, making films with limited money and starring all his friends and oddballs he came into contact with everyday. Some of his films include
Chelsea Girls
, which is an avant-garde film about a group of women living at the Chelsea Hotel, presented in a split screen. Other very odd films include
Sleep
, which shows one of Andy's friends sleeping for five hours;
Empire
, an eight-hour shot of the Empire State Building and
Batman Dracula
, a film so weird, any explanation would be inadequate. Andy Warhol also discovered some incredible musical talent, with his greatest discovery being underground rock stars The Velvet Underground, the band responsible for being the starting place for music icon Lou Reed. Some consider Andy's discoveries to be the beginning of progressive rock music, which would soon be made popular by the likes of Led Zeppelin and Pink Floyd. There is no doubt Andy Warhol was an incredibly strange man. He was an enigma of an artist - he tried absolutely every art form there is, and because of that he created a weird and legendary reputation for himself that has turned him into an icon. Andy was absolutely brilliant in all of his endeavors, and sadly he is no longer with us, but his art and influence on other artists live on, and will continue to live on for years to come, making Andy Warhol one of the most iconic and brilliant men to ever live.
Keep Up With PopWrapped On The Web!