Three Americans were in Europe when they became overnight heroes. While on a train going from Amsterdam to Paris, they stopped a man from potentially committing a massacre. A man was armed to the teeth when he boarded the train, so his intent seemed pretty darn clear.
In the carriage with the terrorist wannabe were Spencer Stone, Alek Skarlatos and Anthony Sadler. These three men, along with a British and French man, took the guy down. There was a dust-up on the train, waking them from sleep to see the Frenchman tackling the terrorist. They then took him on, the terrorist with a knife in hand wasn't giving up and actually cut  Spencer Stone in the neck and eyebrow as well as hand, almost causing him to lose a thumb. They knocked the terrorist out with the butt of one of the guns on his body and tied him up until he could be dealt with by police.
They tended to each other's injuries as well, one of which was pretty bad as it seemed an artery was cut.
So, as a recap: terrorist thwarted, lives saved. If that doesn't define someone a hero, I don't know what does. Oh, and did I mention that Stone and Skarlatos are off-duty servicemen? So they were already on the hero track.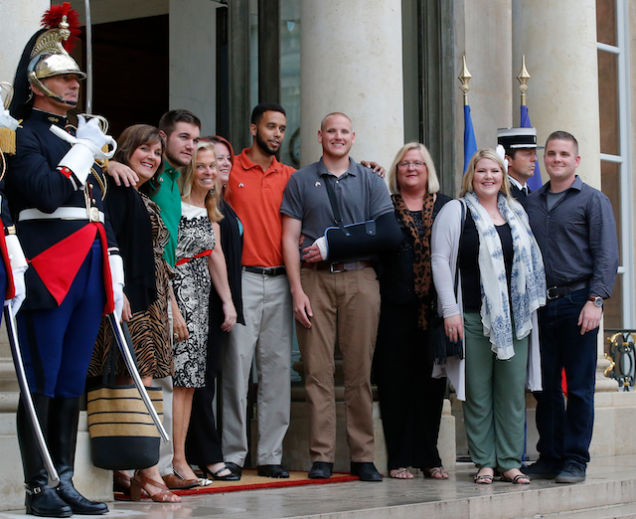 Courtesy of Flight Club
On August 21st, the men (along with the Brit and Frenchman) were honored in France for their act of bravery that no doubt saved countless lives. Being over seas, it was hard for their mothers to get to France to see their sons accept the Legion d'Honneur... enter: Tim Boyle.
The CEO of Columbia Sportswear heard of their courage and logistical problems of their mothers and wanted to help. He tossed some fuel into his private jet and lent it out to the mothers so that they could be in France for the big ceremony. He spoke with his pilot, Doug Perrill, who was more than happy to assist.
We here at PopWrapped stand and applaud the 5 men who risked their lives to save others, as well as the very generous CEO and pilot with who solid hearts of gold.