Entertainment Weekly has revealed the first pics of Charlie Hunnam as King Arthur.  The smoking hot photos were taken this month on the set in England. Hunnam, most recently  known as Jackson "Jax" Teller in Sons of Anarchy, embraced the legendary sword Excalibur for the shoot. This latest version of the saga of the legendary king is taking shape under the direction of Guy Ritchie and looking at the cast, Hunnam is not the only name viewers may be familiar with:  Eric Bana, Jude Law, and David Beckham are also listed among the cast.  Knights of the Round Table: King Arthur centers around Arthur's relationship with the magical sword Excalibur and his overthrow of the dictator that stole his throne and title. Already excited!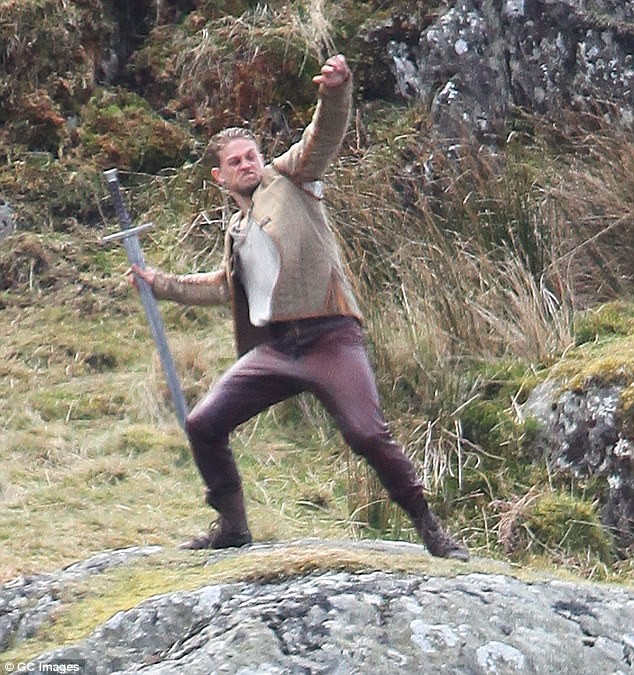 Courtesy of dailymail.co.uk
You have to give Charlie Hunnam credit for picking his roles because this looks like it will be a stellar film. Also, credit due for turning down roles, as he did with 50 Shades of Grey. Good move, Charlie!
Scheduled for release July 22, 2016, King Arthur was written by Joby Harold, who is also producing with Akiva Goldsman, Tory Tunnell and Guy Ritchie, himself.  Its release date will see it opening opposite Paul Feig's Ghostbusters reboot. It's looking like a good summer for 2016!
What do you think?