For once, the rumors are true, and a Charmed reboot is officially in the works at The CW! The reboot will be written by Jane the Virgin's Jessica O'Toole, Amy Rardin and Jennie Snyder. Unlike everyone else who saw Charmed trending on Twitter, don't get your hopes up about seeing the Charmed Ones again or seeing their children lugging around the Book of Shadows.
The Charmed reboot takes place in 1976, and it will be a prequel connected to the original series.
Charmed aired from 1998-2006 on The WB for eight seasons. The original series followed three sisters who were extremely powerful witches and dedicated to protecting the innocent from evil forces.
The reboot will feature three witches brought together to fight evil in New England, not San Francisco, like in the original series. The unofficial names and character descriptions below are from TVLine.
Tina: African-American. Whip-smart, Tina is one dissertation (and one dissertation advisor) away from a PhD. She can be reserved, even standoffish, in uncomfortable situations, but she picks up on everything, and she's definitely making quick, accurate judgments about you.
Paige: Caucasian. Cheerful, curvy, wholesome and as all-American as the apple pie she can't wait to serve to the husband she has yet to marry. Paige's main goal in life is to marry a rich doctor and be a wife and mother.
Annie: Caucasian. Intense, smart, and quick to anger. She dresses neutrally, though she could give two s–ts if you like her outfit, so stop wondering what "neutral" means. But under that tough façade, well ... there is a fragility. A person desperate to be loved and love.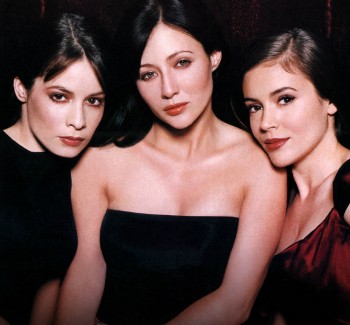 Charmed Wiki
With the reboot taking place when the Charmed Ones were children, it seems highly unlikely that the original cast will reprise their roles. Charmed fans are extremely disappointed that they won't see Shannen Doherty (Prue), Alyssa Milano (Phoebe) and Holly Marie Combs (Piper) reprise their roles as the Halliwell Sisters, or that Rose McGowen (Paige), the trio's half-sister, is not set to make an appearance. However, in a universe where time travel is possible, there's a chance the new Power of Three could visit the future and run into an original Charmed One.
It's worth noting that one of the new witches may share Paige's name. Is there any chance that she's related to Paige? An aunt perhaps?
Will you be tuning into the Charmed reboot? Let us know in the comments below.