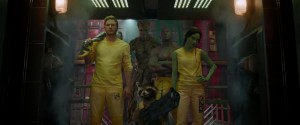 Courtesy of ClevverMovies
Megan Lee
Staff Writer
I was given the opp
ortunity to attend the London screening of
Marvel's new movie Guardians Of The Galaxy and let me tell you, it was fantastic!
I'll try my best not to spoil anything for you guys:
Firstly, the entire cast was phenomenal. A few people that really stood out for me were Karen Gillan, who plays a baddie in the movie which is different from her usual roles. She really pulls it off though; I kind of love her character purely because of Karen's performance. Another cast member who stood out was Chris Pratt and he was just outstanding. Bradley Cooper was also beyond amazing, not only because he plays a raccoon but because he really brings the character to life!
Now on to the story... Guardians is pretty epic! The plot was great and easy to follow unlike some movies where there's so much action the story suffers. There were lots of explosions, fight scenes between almost everyone, and the special effects were amazing! I mean, I kept forgetting Groot (Vin Diesel) and Rocket (Bradley Cooper) were even animated. Plus I got to see the movie in 3D and it looked so awesome.
The movie began with a young Peter Quill sitting in a hospital waiting room listening to music in a cassette player when his grandfather comes out of a room and takes him inside where Quill's family is awaiting his mothers death... tragic, I know. 
H
is mother begs him to hold her hand but he freezes up and doesn't, then she passes away. 
Peter then runs out of the hospital where he is literally beamed up into a spaceship and whisked away.
I was unsure as to why that scene was the opening scene, but as the movie goes on I started to understand why.
Then the story jumps roughly 20 years into the future where you see Quill doing what you immediately assume he does best, stealing.
The movie is titled Guardians Of The Galaxy but seeing the characters in their first scene together I really didn't think they'd ever be a functioning team. 
They're all after an orb that Peter stole at the start of the movie, and they almost kill each other for it, but they're quickly apprehended by the authorities and that is where they decide to become a team.
That's the thing that surprised me most, how they made such a great team even though they don't trust each other at all.
A lot of the story reminded me of Stardust, where there's multiple villains and they're all after one thing to use if for different reasons, you just don't know who's gonna end up with the orb.
Despite all the fighting and explosions the movie is also extremely funny!! Everyone in the cinema laughed so loudly, writer and director James Gunn did a great job.
Another great feature in the movie was the soundtrack, all of the songs are golden oldies, definitely not the sort of songs you'd associate with a futuristic action-packed movie. When you watch it you'll understand what I mean when I say it pretty much makes the film that much more awesome. 
Although there was one song in the movie that was really distracting and that was "Cherry Bomb" by The Runaways. It's played in an important scene but it was loud so all I could focus on was the song.
At the end of the movie Peter finds out something about his father who hasn't seen since before he was taken from earth which shocks him as well as everyone else. 
The second movie will most certainly be about Peter's family and certain villains will definitely return to get revenge on the guardians.
Anyway, I loved the movie so much, even though I really didn't think I would. It's not like other movies, you rarely see bad guys as the heroes. As far as I'm concerned though, t
he trailer didn't really do the movie justice, so take my word for it:
Guardians Of The Galaxy
is a MUST SEE! You won't be disappointed!
The movie itself is out August 1st, but if you haven't seen the trailer yet, check it out below:
http://youtu.be/crIaEzXgqto
Keep Up With PopWrapped On The Web!