Kate McHale
Staff Writer
Well Gleeks, it's time to say goodbye--for now that is. Season 5 of Glee is officially in the books and has everyone scratching their heads and wondering what could possibly happen next. I think that it is safe to say that this season was filled with sadness, pain, joy, confusion, happiness, and nostalgia. Not a Glee episode went by without feeling an array of emotions. The season finale, "The Untitled Rachel Berry Project," was no exception. In the mere hour that Glee aired, everyone was wondering what or who was going to be left by the end of the hour.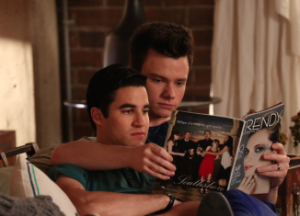 Courtesy of FOX
With Rachel getting her very own TV show, Blaine's showcase with June, and our favorite blonde Brittany returning, no stone was left unturned. Not to mention the mind blowing, cheer inducing, smile warranting, and maybe a slight tear provoking performances from last night's episode. From a Mercedes Jones original "Shakin My Head" (mall tour to come), to Rachel's beautiful rendition of Pink's "Glitter In the Air," Gleeks were treated to wonderful songs the whole episode.
[embed]http://youtu.be/Y4jc8k8hYds[/embed]
Of course, all of the Klaine fans were immediately sent into cardiac arrest the minute Blaine started to perform "All of Me." However, they were soon delighted to Klaine's duet of "American Boy." If you haven't watched that performance you must see it, like now! You will be treated to some hilarious dance moves, which I'm saying lightly, from the lovable Kurt Hummel.
[embed]http://youtu.be/DxdyIVHkECc[/embed]
[embed]http://youtu.be/BiQ2P2D4vpc[/embed]
Although, despite the perfection of the previous numbers, the season ended on a perfect note with a lively and more than likely  fan favorite for years to come, with their rendition of "Pompeii." Not only was their version of the song pretty darn good, fans were treated to on more glimpse inside the halls that everyone fell in love with on our beloved show, McKinley High. More importantly, a peek into the old choir room turned computer lab. All thanks to the hunky Sam Evans. After his hot performance of "Girls on Film" he landed his first giant gig, and decided it was time to leave The Big City and move back home. Hence his trip down memory lane, which definitely left Gleeks nostalgic and wishing Season 6 started yesterday.
[embed]http://youtu.be/fNKConh-IwU[/embed]
[embed]http://youtu.be/Us354YCVKVQ[/embed]
What the season finale did leave Gleeks with is a ton of questions that need to be answered pronto! For example, with Rachel's big move to Los Angeles, will the gang follow her out there? Speaking of the gang, please please please tell me that it will be the entire group that Gleeks fell in love with. It would only be right to send the show out the way it came into our living rooms and hearts. For now, Gleeks are only left to sit and speculate until Ryan Murphy decides to spill his plans for the final season.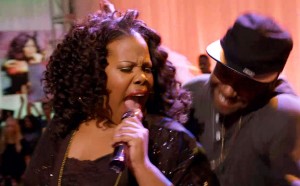 Courtesy of FOX
So, how did you fare this season? If you were like me, and decided to stay the course with Glee, then I think it's safe to say you are probably happy about your decision. If you need another dose of the kick butt performances last night, or are simply beginning to go through Glee withdrawals already, take a look at the performances from last night.
As always let us know your thoughts on the performances and season finale!
Keep Up With PopWrapped On The Web!