The President-elect may have plans to welcome the new year in Florida, but it seems that a statue in his likeness will help the community in northern China welcome 2017 in a yuge way. A giant rooster statue that looks suspiciously like Donald Trump has appeared outside a shopping mall in Taiyuan.
"I think the rooster is very cute and funny, the hairstyle and eyebrows look very much like Donald Trump," said business owner Wei Qing. "I'm sure it will attract a lot of customers."
The statue was designed by Casey Latiolais. According to an interview, Latiolais was contacted via Behance, a website where artists and designers can post their portfolios, and completed the design in early November. Latiolais said the company asked for a statue to celebrate the year of the Rooster but did not comment on why he decided to give the Rooster features similar to the president-elect.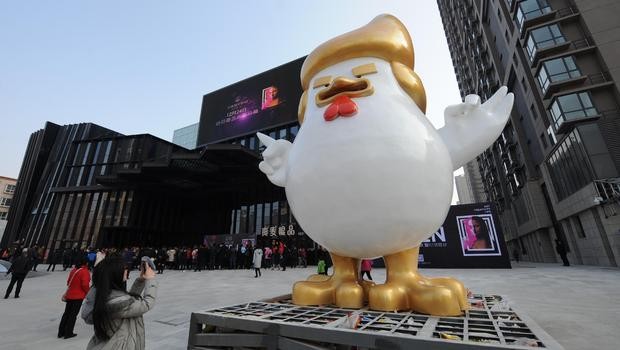 cbsnews.com
The 23 feet tall statue was commissioned by the mall's owners and will even become the mall's mascot. Store owners are quickly reacting to take the statue as an opportunity for more business, including the sales of roosters similar to the statue. "It is the Year of [the] Rooster, and Trump is about to take office." said a Taobao vendor to the South China Morning Post.
Despite recent tensions between the president-elect and China, Trump has not commented on the statue. The arrival of the rooster statue has been received more positively than Trump's recent problems with China, such as his disregard for the One China policy.
This also isn't the first time people have said that the president-elect looks like a bird. In November, a Chinese journalist tweeted a photo having a picture of Trump next to a golden pheasant with a blond pompadour and red body.
Meet the pheasant-elect: Bird sporting 'Donald Trump's hairstyle' soars to internet fame in China https://t.co/qYUbMcDYmV pic.twitter.com/VTPlDcaBcp

— People's Daily,China (@PDChina) November 14, 2016
What do you think of the statue? Do you think it looks like Trump? Let us know!