As if the cast wasn't already amazing enough, Chris Hemsworth (Thor, The Avengers) has joined the Ghostbusters reboot! Director Paul Feig confirmed in a post via Twitter today that they found their receptionist!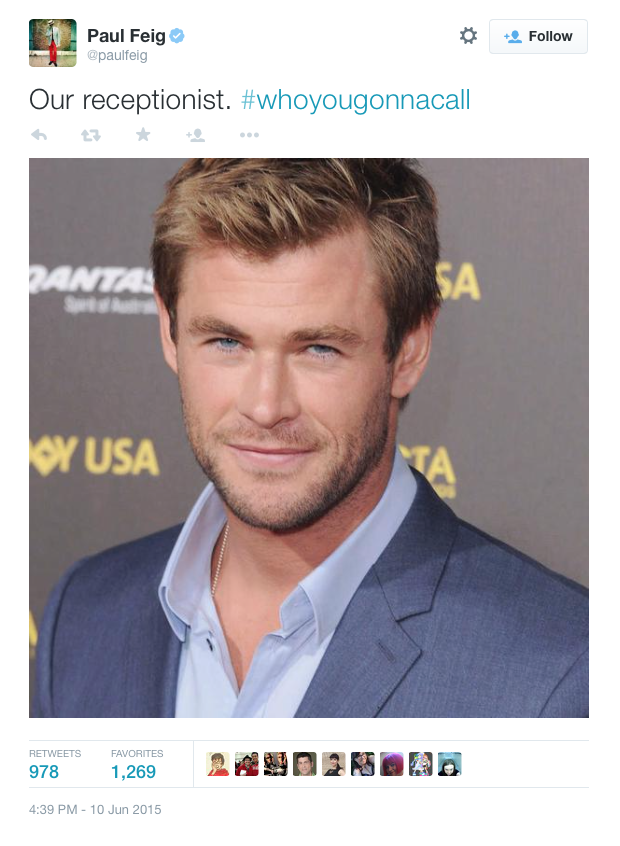 Courtesy Twitter
Hemsworth will be joining Melissa McCarthy (The Heat, Spy), Kristen Wiig (Bridesmaids), Leslie Jones (Saturday Night Live) and Kate McKinnon (Masterminds) in the remake. But Chris will have some big shoes to fill living up to Annie Potts' brilliant performance in the 1984 original! The moment she took that first real call, shouted, "We got oooooonnnnne!" and slammed her hand down on the alarm - will live on in pop culture history forever. Here...take a moment and relive it:
It will be interesting to see how Hemsworth fares in a comedy; his resume up until now has been an action-packed list of testosterone-fueled roles with plenty of punching, racing, shooting and...well...other action-y stuff. But Chris will also be appearing in the Vacation remake, due for release this July. So, it sounds like he's up for the challenge!
Ghostbusters is scheduled to begin production later this summer and is set to release in theaters July 22, 2016.
Are you excited to see Chris in a comedic role? Can't wait to see a female team of Ghostbusters? Leave a comment below and we can chat!