Hello, PopWrapped faithful. If you're reading this expecting a poetic wax about whom is going to be the Republican nominee for president then you are mistaken. If you were expecting several stand-out moments, then you are correct.
How can you decide whom to pick when you have 15 people, over a year before the actual election, and those questioned have roughly 90 seconds to gain your vote? There is way too much time for Twitter to derail several candidates, a mix-up in words at a press conference or poorly chosen words to thin this herd.
What I can tell you is there were several strategies on tap, some fairly powerful quotes and a whole lot of comments or defenses of Donald Trump. When discussing the fact that Jeb Bush and Marco Rubio speak Spanish at some of their press conferences, Trump quipped, "In this country we speak English not Spanish."
On Jeb's brother George's time in office, Trump said, "Because of your brother's presidency, we have Barack Obama." To which Bush defiantly responded, "My brother kept us safe."
The moderators, Jake Tapper along with Hugh Hewitt and Dana Bash, did a better job of shifting the questions, giving each candidate an equal amount of time on each topic, but with so many candidates it is so hard to get that. 15 people, running for the
president
no less, want to keep talking and responding instantly to things that others had brought up about them.
The first part of the debate offered up very little to change any of the candidates positions. Bobby Jindal did his best to separate himself from the two senators on each side of him. At one point speaking about immigration, he said,
"but I want to go back on immigration. Let me be very clear. Immigration, we need to insist on assimilation in immigration. My parents came here legally almost 45 years ago. They came here; they followed the rule of law. They knew English; they adopted the values. They didn't come here to be hyphenated Americans. They're not Indian Americans. They're not Asian Americans. They're Americans."
The rest could be described as a floor scene on the capitol floor as Rick Santorum and Lindsay Grahm discussed a bill that each differed on Congress. None of these four did much to shake the meter though.
The main event was quite different, for while the Donald stuck to what has gotten him in the position he is in, he started getting a little wobbly as more concrete solutions were needed.
Carly Fiorina could be argued that given the bigger stage, she showed she is a strong candidate and the non-Washington type that many Americans have decided we need. She handled attacks on her looks by Trump beautifully. Tapper asked how she would respond to Trump, insinuating that her looks would spurn people from voting for her. She said, "Much like he heard Mr. Bush earlier, I am sure women all over this country heard Mr. Trump loud and clear." On what she would show the world first when elected, she chimed, "America is back in the leadership business."
When Fiorina and Trump got engaged in a back-and-forth of tooting their own horns, Chris Christie yelled, "The 55-year old construction worker watching at home. They don't care about your careers." He continued thumping his chest, on Iran stating, "I will not meet with, and I will not agree with a country that says death to us, death to Israel, and holds our hostages while we sign agreements with them."
Dr. Carson seemed to want to clarify quotes that were attributed to
him
but did not really stand out. He appeared to lay low, just saying enough to stay in the running, but Carson will need to start revealing his plan if he is going to remain a viable candidate.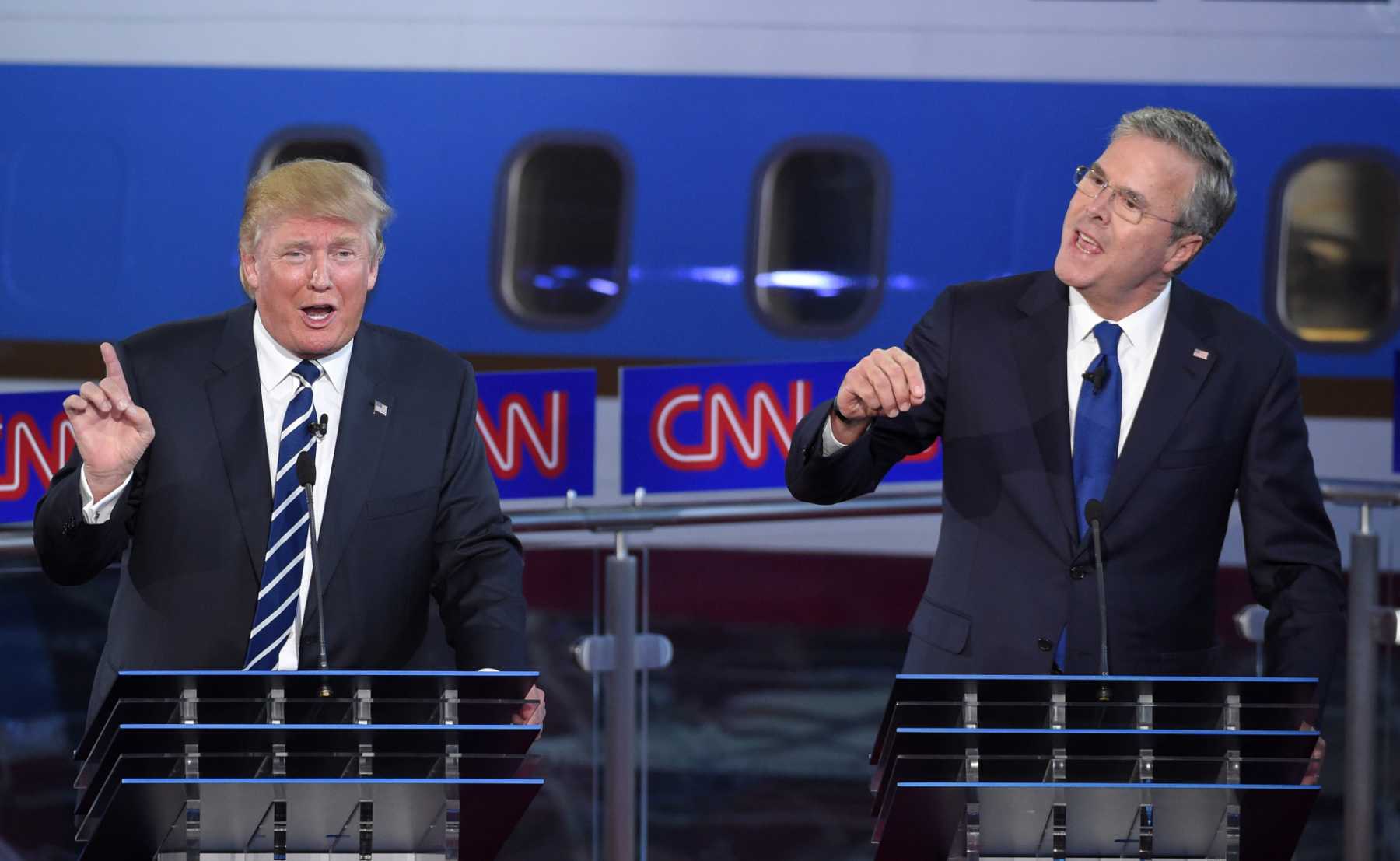 (AP Photo/Mark J. Terrill)
Trump did what he usually does. When probed about something he said, defend it, make a face and redirect. (See above quotes of childish Donald). His sophomoric name calling was called out by Rand Paul, Fiorina, and Christie who asked,"If we are negotiating with other countries do we want someone who is going to hurl insults?"
We need a thinner field to get a better idea, to thin out this meandering herd of wanna-be presidents. In this writer's humble opinion I will close by picking a handful that, based on their debate performances, should be in the mix for the long run:
Carly Fiorina, Dr. Ben Carson, Ted Cruz, Bobby Jindal, and Donald Trump. Does that mean they are endorsed? No. Those are simply whom I have come across as having the most opportunities to separate themselves throughout these future months.
As stated before, below are the transcripts for both debates if you would like to read the candidates responses as opposed to watching 5 hours of political speak.
Transcripts from Time.com
Transcripts from The Washington Post