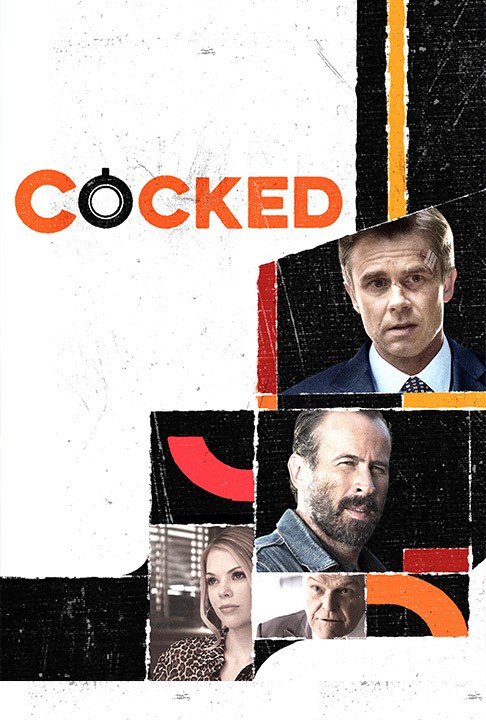 Courtesy of IMDB
The
official summary of the show
 on Amazon Prime describes
Cocked 
as "the darkly comic tale of the Paxons, a broken family working together – and against each other – in the quintessentially American business, the business of guns. Emotionally armed, physically armed, and in the business of arming others, the Paxons fight to save their family gun company and their individual sanity." I'm not going to beat around the bush. I really enjoyed
Cocked
. The pilot episode was a little slow at times (as pilots tend to be), but it created a solid foundation for the writers to build upon and the performances were fantastic. Jason Lee (
My Name Is Earl, Mallrats
) plays the ne'er-do-well, cocaine-snorting, gun-toting Grady Paxon, who has just taken a huge risk with the family business only to have it blow up in his face when a competing company rips off their gun design putting the future of Paxon Guns in jeopardy. Sam Trammell (
True Blood
) is his polar-opposite brother, Richard, the responsible husband and family man with a job that basically makes him miserable. Living happily in another city, far away from his family, Richard is suddenly forced to return home to help save the family company. There were a few predictable elements to the story like the character of Richard. He was definitely a character we have seen before; a man so damaged by his upbringing that he became exactly the opposite of his entire family. And there was a plot twist at the very end that you can see coming from the very start like a Mack truck down a single-lane highway. But these little details are excusable if you just allow yourself to enjoy the relationships and the extremely funny and quotable lines. In spite of the potential for lecture that exists whenever the topic of gun culture arises,
Cocked
focuses more on the family dynamics and less on the politics. The characters have the discussions we have all had at one time or another about the pros and cons of gun ownership, but the writers smartly avoid being heavy-handed or preachy with both sides. They allow us to laugh at the humor and cringe when we recognize our own dysfunctional relationships in the Paxons' lives. You can see
Cocked
on Amazon Prime and if you like it, take the survey when you're finished because the viewers will determine which pilots are given more episodes and which ones disappear forever. If you give it a go, stop back in the comments and let us know what you thought!
Keep Up With PopWrapped On The Web!