Margaret Burd and Rebecca Brinkman had a great day yesterday
! The two brought a case up against the state of Colorado back in October 2013 saying the ban on gay marriage is unconstitutional (and it is!) and therefore their rights are being violated. Luckily common sense and human decency won the battle, and the court found the ban in violation of due process and equality, as is guaranteed under the 14th amendment to the U.S. Constitution. Check out a transcript of the official order from Judge Crabtree: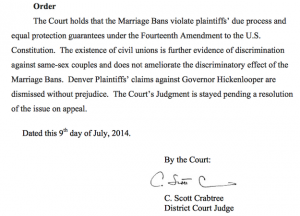 Courtesy of Buzzfeed
As a supporter of equality for all, I can't express how exciting and promising it is to see headlines like this almost on a daily basis now. Go Colorado!
Keep Up With PopWrapped On The Web!