In June of this year, there was a tragic mass shooting at an Orlando nightclub. This was the biggest mass shooting in modern United States history, and the victims were patrons of Pulse, a gay nightclub. It was a horrific event that took 49 innocent lives. The tragedy had an effect on virtually everyone with a heart around the world but on the LGBTQ+ community in particular. It was hard to process the fact that these lives were lost simply because of who they loved.
As everyone struggled to digest the horror of what had occurred, some felt driven to action -- to do something to help. One of those individuals was comic book writer Marc Andreyko, known for his work on Manhunter and Batwoman. After retweeting the names and images of those who were tragically killed, he put a call out to other comics creators who may be reeling from the events and feeling helpless in their wake:
Hey, fellow comics pros: anyone interested in doing a benefit anthology book for the Orlando victims? i'm more than willing to organize it.

— Marc Andreyko (@marcandreyko) June 13, 2016
The concept would be an anthology of one-page stories celebrating LGBTQ+ heroes, with the proceeds going to help the victims of the Orlando shooting and their families though Equality Florida. The comic book community responded in spades, with creators across companies and in varying stages of their careers responding. In less than two days, Andreyko had enough support to begin work.
looks like the Orlando Tribute Comic is a go! details to contributors interested: 1 pagers (pin-up or story), dates, etc, to come!

— Marc Andreyko (@marcandreyko) June 15, 2016
The result is an anthology called Love is Love, featuring more than 100 one or two pages stories, written and drawn by over 100 comic book creators. Andreyko told the New York Times that he was moved to action by the tragic events, wanting to do something to make a positive impact.
"I'm a child of the 80s; I grew up with 'We Are The World' and Live Aid...Events like this shouldn't be compartmentalized. They should hurt and we should want to change for the better."
Andreyko worked hard to ensure that everyone who wanted to contribute could, often playing matchmaker between artists and writers.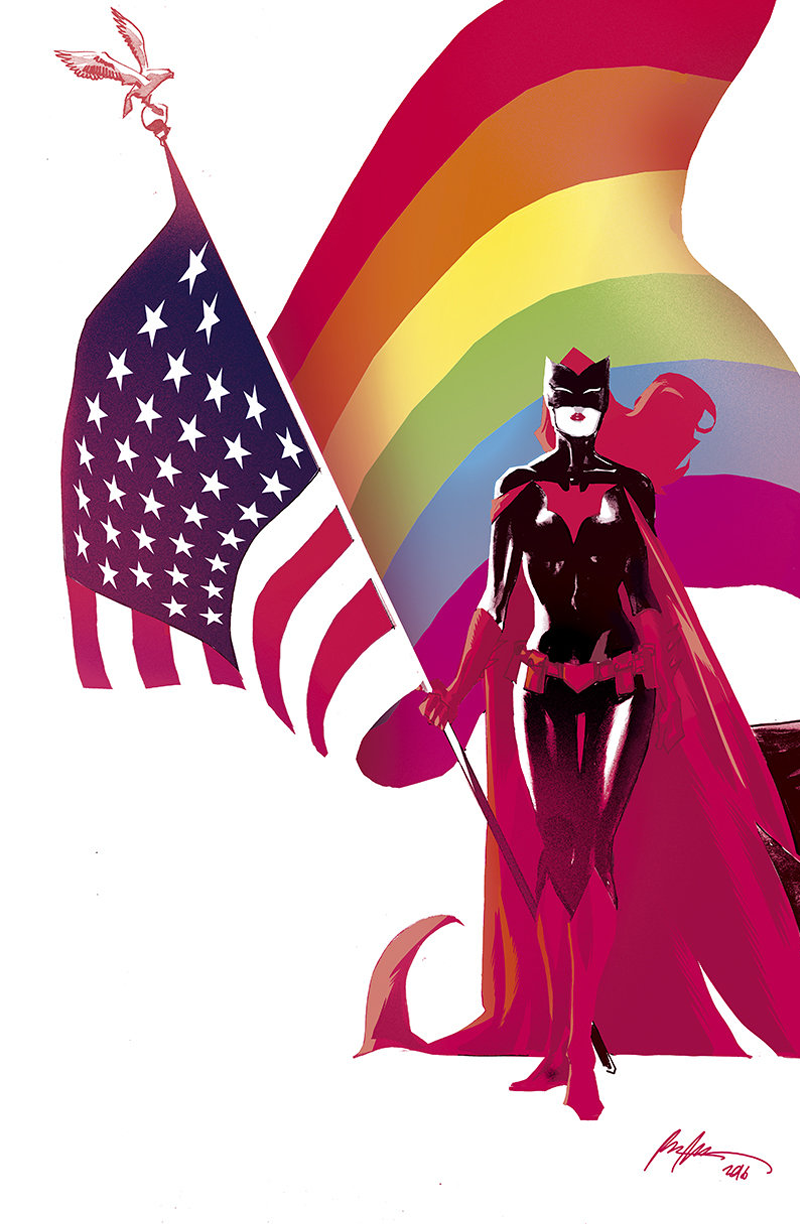 Rafael Alburquerque
There aren't many details known about which creators were specifically involved, though many have confirmed their contributions after the New York Times made the announcement. Fans can expect to see work by Steve Orlando, Iain Laurie, James Tynion IV, Molly Osertag, James Amus, Patton Oswalt, Phil Jimenez, Ryan Ferrier, and Ming Doyle, among many, many others.
Love is Love is being published by DC Comics and IDW collectively and will feature stories, pin ups, and short comics celebrating the LGBTQ+ population while honoring those whose lives were lost in Orlando. Comics companies don't often come together on a project like this, so it's nice to see DC and IDW working together for such a great cause. You can pick up Love is Love at your local comic book shop in December for about $10, though it might be a wise idea to add this title to your pull list in case it sells out.