The red-hats of USA's drama, Colony  took control of downtown San Diego last weekend during Comic-Con International. The militaristic parading army was there to simulate the occupation, also referred to by the cast as "The Invasion", which happens within the series itself!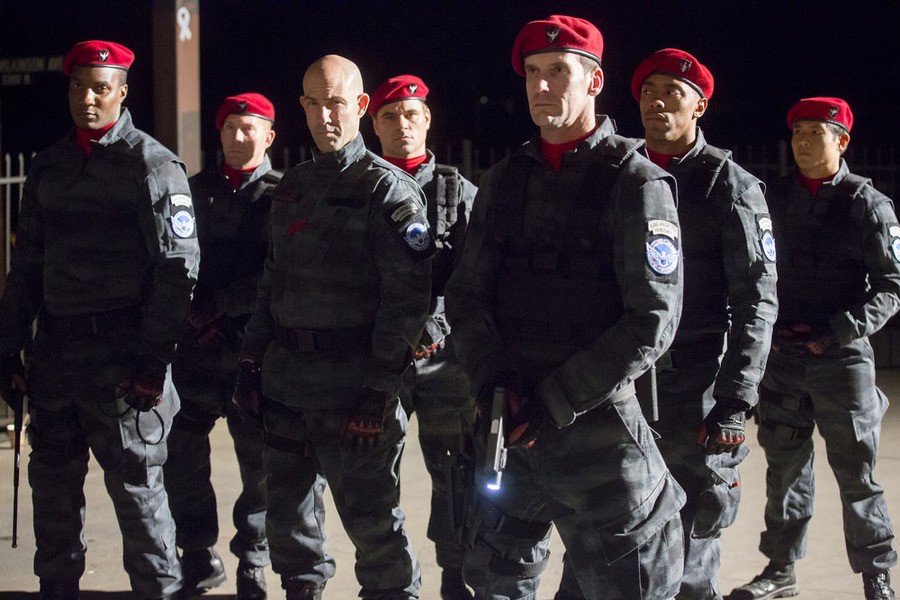 COLONY -- "Pilot" Episode 101 -- Pictured: The Redhats -- (Photo by: Paul Drinkwater/USA Network)
Set in the very near future, "Colony" centers on one family's struggle to survive and bring liberty back to the people of an occupied Los Angeles.  Josh Holloway ("Lost") stars as former FBI agent Will Bowman and Sarah Wayne Callies ("The Walking Dead") stars as his wife, Katie. 

Colony takes place in a dangerous world of divided ideologies.  While some choose to collaborate with the occupation and benefit from the new order, others rebel and suffer the consequences.

After being separated from their son during the invasion, Will and Katie are willing to do whatever is necessary to be reunited with him. Thus, when the powerful Proxy Snyder (Peter Jacobson, "House") offers Will a chance to get his son back if he will collaborate with the occupational government, Will and Katie find themselves faced with the toughest decision of their lives.  They will have to go beyond whatever they thought possible, risking their lives and their relationship to protect their family.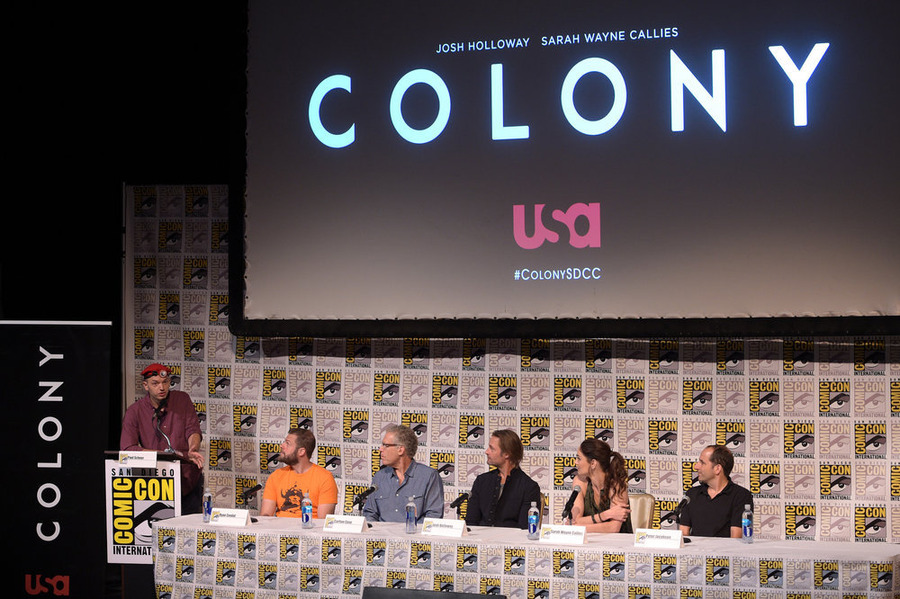 COMIC-CON INTERNATIONAL: SAN DIEGO -- "Colony Screening & Q&A" -- Pictured: (L-R) Paul Scheer, Ryan Condal, Executive Producer, Carlton Cuse, Writer and Executive Producer, Josh Holloway, Sarah Wayne Callies and Peter Jacobson -- (Photo by: Jason Kempin/USA Network)
Josh Holloway, Sarah Wayne Callies, and Peter Jacobson sat down with us to share the ethical implications, dilemmas, and conflicts surrounding their characters in Colony.
Check out the videos from SDCC below:
https://www.youtube.com/watch?v=bueN8M7VtZA&h=500 https://www.youtube.com/watch?v=BrUonXbQlhY&h=500
Colony will invade in mid-October on USA Network. Be sure to follow the show on Facebook: https://www.facebook.com/colonyusa and on Twitter at their official handle: @ColonyUSA for more information about the epic series premiere!