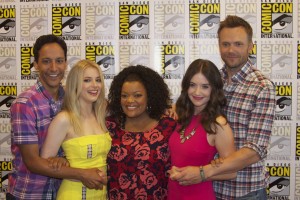 Christa Tintlenot
Staff Writer
Community
, were shocked when
NBC cancelled
the popular series after its fifth season. Recently, the show was picked up for a sixth season by
Yahoo! Screen
to the delight of fans. Even more good news about the show has also been released. There will be a
Community
movie! Fans of the show will be familiar with the show's mantra of six seasons and a movie, but Zack Van Amburg, who
announced the film
, says a possible seventh season could also be in the works. In an interview with the
Hollywood Reporter
he said: "We promised six seasons and a movie, how much more do you want?… I'd be lying if I told you that we have not had some very early and preliminary conversations that are very exciting about what a potential movie could be and who might direct it."
According to reports
, the entire cast will be back for both the sixth season and the movie. As of right now, no date has been accounted for the new season, nor the film, but fans are ecstatic about the future of this beloved show.
Keep Up With PopWrapped On The Web!