Hello Conviction fans! Are we ready for "Past, Prologue & What's to Come?" We're back after a one week hiatus. In the last episode, the CIU managed to free a man that had been held for years as an enemy combatant. Of course, with things going well in Hayes' professional life, her personal life got a little messy when her father manipulated her into doubting her relationship with Wallace.
Wallace picks up on the fact that Hayes has been distant since her father left, but she brushes aside his concern and, instead, wants to know why he liked her when they first met.
Since Hayes gets to pick the cases, she decides to revisit the case where she first met Wallace. She was a defense attorney, and he was with the prosecution. The murder happened in Chicago, but Gerald was recently transferred to New York State, giving Hayes a chance to review the case she lost -- which gives us a chance to see Hayes and Wallace from the beginning, courtesy of flashbacks to the original case.
The Case: Past, Prologue & What's To Come
Gerald Harris is serving a life sentence for murdering his wife, Claire. She was hit over the head and fell over a balcony. There were no witnesses, and his blood-stained pajamas were found in the washing machine, along with blood in the sink and shower. Unidentified fingerprints were found in the house, and there were a series of unsolved burglaries in the neighborhood. Gerald claims he had taken a sleeping pill, and that was why he didn't wake up.
Hayes visits Gerald in prison, and he isn't thrilled to see her since she cut off all communication after she lost his case. The only thing he wants to know is if she thinks he's innocent. Hayes assures him that she believes him, even though his marriage to Claire was different. Different how?
Meanwhile, Sam pays a visit to Rodney Landon. Rodney lets him know he's being subpoenaed in his assault trial. In case you forgot, Sam started a rumor that Rodney was snitching on other inmates. That led to an altercation where Rodney committed a felony on-camera.
Sam informs Hayes about his subpoena, and she wants him to skirt the truth. Sam being implicated would bring all of the CIU's cases under review. Sam refuses to perjure himself and is willing to take the fifth, even if it means he'll get disbarred.
As for other suspects in Claire's murder, Maxine tracks down someone who was breaking into homes around the time of the murder. The timeline fits, and he also assaulted a homeowner over the head when she caught him robbing her home. However, he was robbing another home on the night of Claire's murder, and his alibi checks out.
Hayes' biggest mistake in Gerald's case? Letting Claire's sister Emma take the stand. Gerald insists that the sisters were estranged, and she knows nothing, but, apparently, she knew enough and reveals that her sister's happy marriage was marred by the fact that Gerald was having sex with other men and that Claire wanted a divorce.
Naturally, Hayes is livid that she learned this in court instead of from Gerald. He admits that he confessed his desires to his wife, but, after a while, she came around and accepted it. However, there was no way to prove that she made peace with it.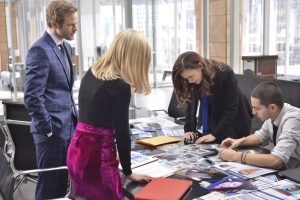 ABC/Sven Frenzel
The men that Gerald slept with were one night stands, but he took photos as a memento. There were only first names on back of the Polaroids. But there were also fingerprints, and one of the men, Paul Lundt, is tracked down. Surprisingly, his prints were the unidentified fingerprints found in Gerald and Claire's home.
If Gerald never invited anyone home, how did Paul's prints get inside the home? Oh, he followed Gerald and stopped by his house when he wasn't home. Claire invited him in and offered him a cup of coffee.
Despite his lack of boundaries, Paul had an alibi for the night of Claire's murder. But he also confirmed that Claire knew Gerald was sleeping with men and that she was okay with it.
Wallace finds out about Sam's subpoena, and Hayes reveals that Sam is planning to take the fifth. Her answer doesn't satisfy him because that will still put the CIU in jeopardy. Hayes announces she'll handle it and does so by visiting a judge in a diner. Somehow, she manages to convince him to advise Rodney Landon against self-incrimination, which leads to Sam's subpoena being dismissed. Wallace wants Sam out of the CIU because he's a liability and went rogue. Hayes agrees to fire him but only because Wallace says he will if she doesn't.
The team wants to exhume Claire's body and use advanced X-ray and MRI techniques to see if there was anything missed in the first autopsy. Hayes convinces Emma to agree to the exhumation.
Frankie throws a mannequin over a railing several times trying to duplicate her wounds from the autopsy. It isn't until the mannequin falls over the railing backwards that they're able to recreate duplicate wounds.
During the second autopsy, there's some bruising on Claire's neck that wasn't visible in the photographs of the first autopsy. The bruising suggests that Claire may have been strangled.
Nothing in the autopsy report indicates any sort of struggle. Frankie somehow makes a connection between the cough Claire had that night and the way she fell over the balcony to a heart attack. The ME examines her aorta and supports his theory. Claire died of a heart attack, and Gerald is released from prison.
Hayes is there to greet Gerald when he's released and then goes to see Sam. She apologizes to Sam, then tells him he's a liability. He doesn't argue with her and starts packing up his things. Hayes, being the completely unpredictable person she is, does something shocking and kisses Sam.
Yes, you read that correctly. Hayes kissed Sam. He's clearly shocked and confused, and she quickly informs him that his boss is sexually harassing him in front of a witness, and no one is firing him now. The cleaning lady awkwardly looks at them a few times before disappearing. Unfortunately, she wasn't the only witness. Wallace also witnessed the kiss. He's visibly upset. Hayes apologizes and walks away.
Final Thoughts
It was interesting to see the origins of Hayes and Wallace's relationship. But the more things change, the more they stay the same. They bickered just as much then as they do now, and, of course, an argument led to them having sex in the elevator.
There were many parallels between their relationship and the relationship between Gerald and Claire -- particularly when Gerald reveals that Claire saw who he really was and loved him anyways. That is the one thing that Hayes has always wanted.
She doubts Wallace's feelings toward her and is worried that part of the reason why he likes her is because of who her father is. Wallace admits she's right but only because that it makes her who she is, and, had that not been the case, she may not be her. They finally manage to have a conversation about their feelings and admit to loving each other.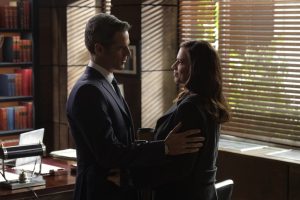 ABC/Sven Frenzel
Then, in a classic Hayes move, she blows everything up. Sure, on one hand, it was a brilliant way to save Sam's job. But, on the other, Hayes has a history of self-sabotage. What better way to disrupt her life by kissing a coworker in front of her boyfriend/boss? Of course, there are no romantic feelings involved, and Wallace knows that, but he's still pissed. As he should be -- even if he loves Hayes' rebellious streak. It's gotta feel like she's testing him, seeing how far she can push him before he washes his hands of her, which would prove he never really loved her for who she was.
I'm not going to lie, my jaw dropped when Hayes kissed Sam, and I was just as confused as he was.
Did anyone else thing Hayes was channeling her inner-Elaine Benes when she told her one night stand, "It was fun, but not repeat-business-fun?" No sponges were involved, but neither merited repeat business.
I had mixed feeling about the season finale. I'm a sucker for flashbacks -- almost embarrassingly so -- which made me thrilled that there were so many of them. That case brought things full circle for Hayes and Wallace; they're kinda back where they were at the start of the season. They have feelings for each other, but maybe a personal relationship isn't possible. The season ended on a relationship cliffhanger instead of a case cliffhanger or Sam's fate. I think it would've been far more dramatic if the fate of the CIU was still in jeopardy.
That's a wrap on Conviction Season 1! We're still waiting for ABC to pick it up for a second season, and clearly there's more story to tell. We've gotten the ensemble's back stories, and, now that we know everyone, it'd be great to see them get their own mini-arcs. How will Sam and Wallace work together in the future? Plus, we need to know the fallout from that kiss! Is Tess really dating Matty? Will Maxine have another setback, or is she clean? Is Frankie still involved with Rey? 
Hopefully, ABC decides to renew Conviction for a second season, so we can find out the answers to those questions and more. What else do you want to see happen in Season 2? What were your thoughts on "Past, Prologue & What's To Come?" Let us know in the comments below.