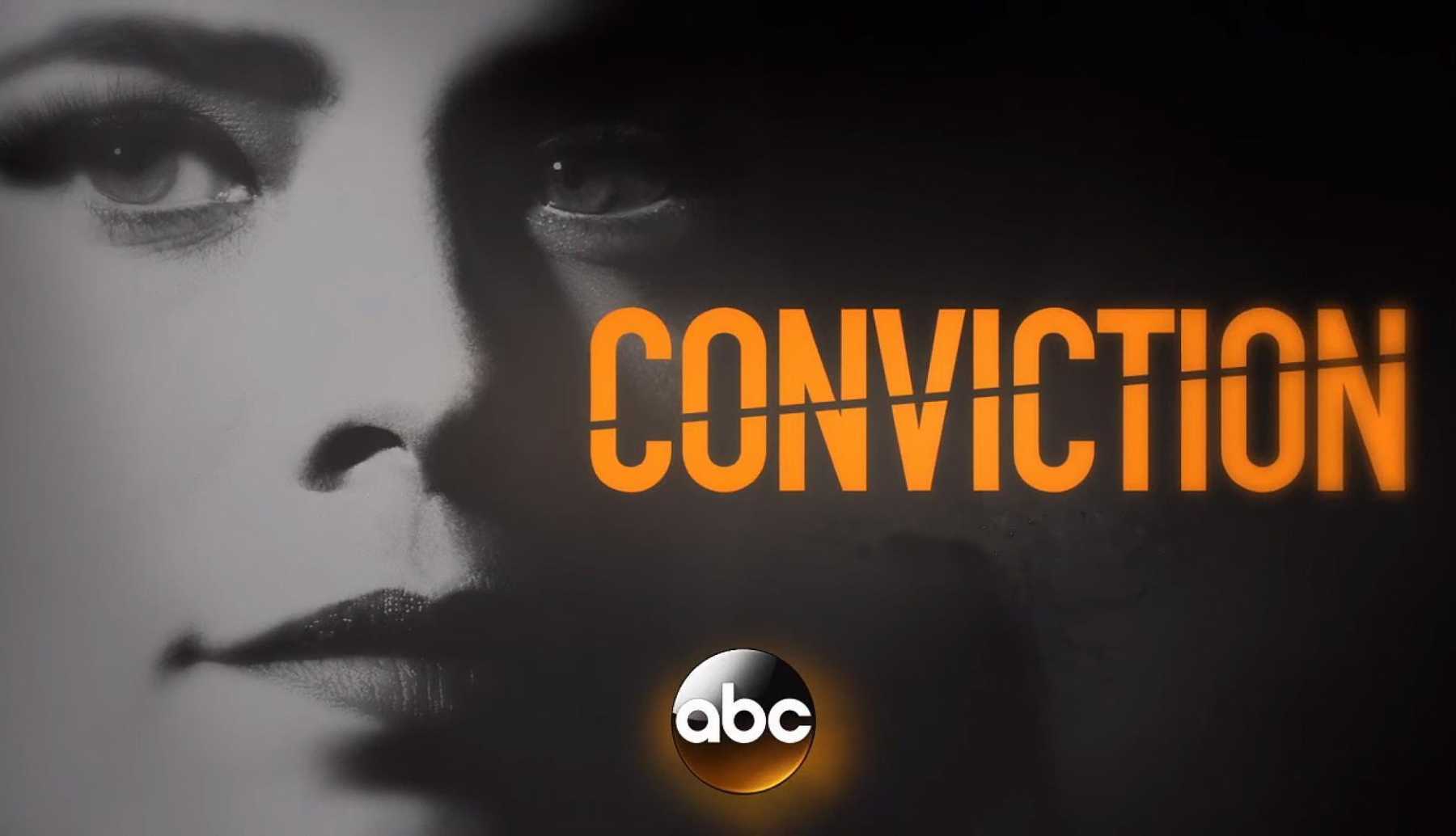 ABC
Welcome back Conviction fans! Conviction is back this week with "The 1% Solution" after a one week hiatus. In the last episode, we left off with Jackson kicking Hayes out of their apartment when she goes off script with her interview. Clearly, he's not a fan of #HayesKeepsItReal. As for the case, the Conviction Integrity Unit found out that their client was innocent, but she ultimately confessed to keep her daughter out of jail.
Since Hayes is exiled from her brother's apartment and he won't take her calls, she's crashing at work. Those gorgeous glass walls really hinder her privacy, and everyone knows she's staying there.
When Hayes rejects the first few pitches for cases, Maxine correctly states that Hayes wants a case to soothe her privileged soul, and Sam pitches the winning case.
The Case - The 1% Solution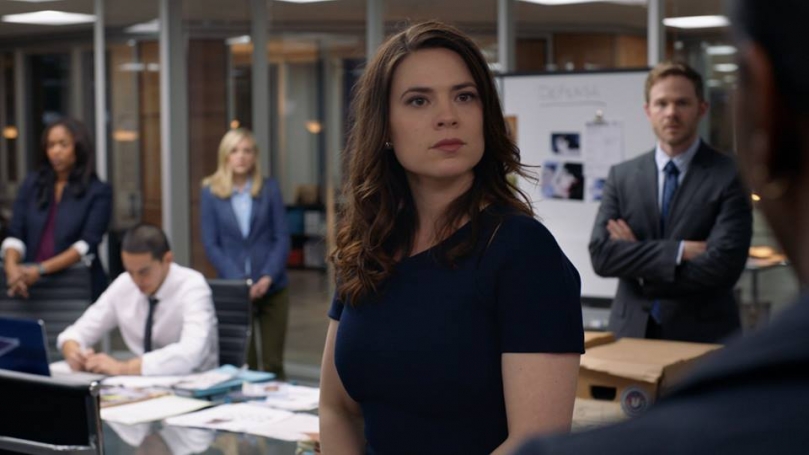 Spoilers Guide
The Porters were the perfect family, but being perfect on a show like Conviction is never a good thing. The Porters were successful couple with a college-aged son and were involved in charity work. Deborah Porter came home one day and was brutally murdered in her home. The young man the Porters took in as a son, Will Jarrett, is in jail for murdering Deborah.
Will's DNA was found under Deborah's nails, and he explains that he caught her while she was changing a light bulb and she scratched his neck. When questioned about lying to police, he says he got his days mixed up. Will seems very appreciative of everything the Porters did for him and talks about how they gave him a sense of family that he didn't get from his own.
Meanwhile, Maxine visits David Porter to inform him that they're looking at his wife's case, and his son Shawn is present. Shawn confirms that he was friendly with Will but doesn't say they were close unlike everyone else.
Tess and Frankie review 24 boxes of evidence. The most interesting piece of evidence? A bloody size 9 boot print that was never entered into evidence. Will wears size 11, and the team speculates about where this boot print came from and why the defense never mentioned it at trial. It turns out that Will had a series of six court-appointed attorneys, and not all the evidence made it to the last attorney.
As for the boot print, Frankie finds out that Deborah's husband bought the boots in question. When asked about the boots, David claims that he gave them to their gardener, Luis Torres. As for the state of his marriage, he admits to seeing divorce attorney and says it was due to issues they were having with their son. He's not thrilled when Frankie insinuates that he killed Deborah. He's even less thrilled when Hayes asks him outright if he did it.
Maxine and Frankie track down Luis Torres, and he's vague when asked about Deborah Porter. He flees when Frankie comments on his boots. Frankie chases after him, and they bring him back to the office for questioning.
Luis insists he didn't kill Deborah and that he tried to help her. He checked Deborah's pulse and didn't call 911 because he was afraid of people knowing he was in the house. He regularly stole from the Porters but never hurt them. Luis swears that Will is the killer because Will once broke his arm in three places and threatened to kill him.
When Hayes and Sam ask Will about Luis' accusation, he doesn't deny harming him. Will says he was defending himself after he saw Luis sneaking out of the house, but he didn't threaten him.
The missing murder weapon miraculously appears in the Luis' truck. Hayes thinks that everything is too convenient and that Luis might be framed. Frankie brings up the possibility that Luis could lose all of his gardening clients if he's charged and that people won't care if he's innocent. Hayes agrees and tells Sam to prove that he's brilliant by making the police hold Luis for 48 hours without questioning him.
Frankie finds security footage of Shawn planting the knife in Luis' truck. Did he kill his mom?
Shawn remains silent while being questioned, but his father speaks on his behalf. David claims that Will ordered Shawn to plant the knife on Luis.
Hayes and Frankie visit Will, and he's surprised when they reveal Shawn's accusation. It's clear that he's troubled about the accusation, but he ultimately agrees with Shawn and confesses to killing Deborah.
Why would Will suddenly confess to a murder when he swore he was innocent all this time? Hayes muses about Will wanting to protect Shawn but isn't sure about his motivations. Frankie suspects that Shawn and Will were romantically involved.
Time for the weekly reenactment. Sam, Tess and Frankie go over the timeline and the location of the stab wounds to try to figure out if Shawn or Will killed Deborah. Neither fit as a suspect on their own, but Sam speculates that they killed her together. The medical examiner backs up Sam's suspicion.
How will they get Will to turn on Shawn if he's hell bent on protecting him? Enter Hayes Morrison.
Hayes preys upon Will's insecurities about Shawn, claiming that Shawn never loved him. It seems like Will won't turn on Shawn, but he turns over an intimate video of him and Shawn. The video shows them in bed, with Shawn asking Will to help with a problem. Shawn keeps saying that they can't be together because his mom will cut him off financially, and Will finally agrees to help. The video leads to Shawn's arrest.
Final Thoughts
The US Attorney is investigating Wallace, and he makes it clear that he's not interested in pursuing a personal relationship with Hayes -- yet he maintains that he made the right decision in having her lead the Conviction Integrity Unit. He wasn't impressed with her gift of ibuprofen for having to "deal with the agony" of her, and she's insulted when he trashes it.
Each "day" started with Hayes calling her brother to ask for forgiveness. It's clear how important Hayes' relationship with Jackson is to her. He's one of the few people she can be herself with. How desperate was Hayes to reconnect with her brother? She called her mom for help on how to talk to him -- and Wallace.
Harper reminds Hayes that, while she often uses the truth, she doesn't admit to her feelings when it comes to the people that matter most to her. She reassures her that Jackson will come around once her poll numbers go up again, but, as for Wallace, she's going to need to open up to him.
After the case wraps up, Hayes goes to visit Wallace again and learns who is representing him in the investigation. Seems like it's a mutual ex of theirs, Naomi Golden; Hayes isn't pleased with the choice, despite her credentials. I'm guessing that Naomi got involved with Wallace sometime after Hayes annihilated her relationship with him.
I've been desperate for more information about everyone's backstory and we finally learned a little more about Frankie! His boyfriend, Rey, asks for help on his appeal. He has one chance left to appeal, and Frankie is hesitant about asking Hayes to look over his case because it's a new job. I'm more than a little concerned that Rey might be using Frankie for help on his appeal, but, seeing as the two met while in prison, it seems unlikely -- unless the two didn't get involved until after Frankie left prison, but that doesn't seem like the case.
Tess looks over Rey's case to see if he has a shot at an appeal. She confirms that the judge overstepped during the case but that the video evidence won't help with an appeal. Tess doesn't know about Frankie's relationship with Rey, so, when she mentions that Rey shouldn't get out of prison, Frankie's defensive, and she has no clue why.
Hayes notices that Frankie's been carrying around the same file all week, and he tells her a little about Rey. Frankie is struggling with his feelings for Rey and how it's mixed up with gratitude for Rey helping him get through prison. He's unsure if Rey should get out of jail or not.
I love that we're learning more about members of the team and that characters are interacting more when it doesn't have to do with the case of the week. Scenes with the five of them are always fun, and, while Sam's joke about the murder weapon being a porterhouse steak knife fell flat, Maxine's turn about Hayes' casual Tuesday being slumber party was spot on.
It would be easy for Conviction to fall into a trap of Hayes brilliantly solving each case, but it doesn't. It moved away from having her have an epiphany each week, and others are using their expertise or personal experience to link that final piece of evidence. One of my favorite parts of Conviction is the weekly reenactments. Each show opens with a version of the crime that got their client convicted, but the reenactment looks at other possibilities. Sometimes it's right, sometimes it's not, but it always offers up a different perspective on the crime.
Next week on Conviction, the team looks into a case involving a black protester convicted of killing a police officer -- but I need to know why Maxine has blood on her face! Is something happening present day, or is it a flashback?