Hello Conviction fans! Are we ready for "Black Orchid?" Last week, the team managed to exonerate their client for murdering her rapist. Also, Hayes and Wallace are on the same page for once and are going to try to start over. Let's see how that goes as they try to balance their relationship with their demanding jobs.
Hayes was hoping that Wallace was summoning her for brunch, but he brought her to a crime scene instead. Not very romantic, but it oddly works for them.
Marla Higgins was brutally beaten to death at home, and the killer put lipstick on her after the fact, just like the Black Orchid Killer (BOK). However, the BOK is behind bars, and it's up to the CIU team to determine it's a copycat killer or the real killer was never caught.
The Case: Black Orchid
Clark Sims has spent the past 10 years in jail as the Black Orchid Killer. He has two of the three Macdonald serial killer traits: bedwetting past the age of twelve and he set a fire in high school. His fingerprints were found on the window of one of the victims. But is he the real killer?
Tess is eager to point out that Clark has maintained his innocence all these years, which conflicts with typical serial killer profiles. Apparently, she has a bit of fascination with serial killers, and some of the information used on the board was from her personal collection.
One of the BOK's victims survived, and she doesn't remember much from the night of her attack. He grabbed her by the neck, and she didn't see him. All she can remember is being scratched by his coveralls on his face.
Frankie confirms that Clark wore coveralls in his booking photo.
Later that night, Clark gave an exclusive interview and admitted to being the Black Orchid Killer.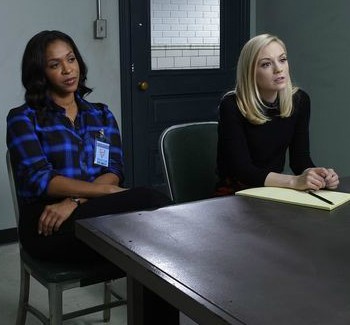 ABC
However, Tess is convinced he's lying and goes to visit him the next day in prison. It quickly becomes clear that he likes the structure of prison, and she asks him about it. She tells him about her past and becoming comfortable with feeling bad about what she had done. She asks him if he's become comfortable in prison. She promises that the CIU will help him find a new routine if he gets out of prison. Clark admits to never really fitting in anywhere and says that he's innocent.
While checking to see if it was possible for Clark to leave work at 5:30 and kill the victim by 6, Maxine and Sam stumble on an interesting lead. Apparently, the company Clark worked for delivered windows. One of the windows he delivered was ultimately installed in the victim's townhouse, which explains how his fingerprint got on the window if he was never at the crime scene.
Hayes and Wallace are struggling not to let the case overtake their personal life, but they're both workaholics. They try and subsequently fail when trying not to talk about work. They do manage to get a little shop talk in before dinner.
Hayes is never one to shy away from confrontation and doesn't hesitate to threaten Wallace with having the CIU push their way into the investigation of the new suspect in police custody, Joe Kaplan.
Three witnesses place Joe outside of Marla's apartment right before he broke in and discovered her body. Maxine, Tess and Detective Cestero are questioning him about what he was doing outside of her apartment. He claims that he was having lunch in his truck and saw blood everywhere, so he broke in.
When Detective Cestero preemptively mentions the Black Orchid Killer, Joe freaks out. Tess over steps and advises him to lawyer up, but Maxine backs her up. Joe hadn't been read his rights, and anything he said would've been inadmissible.
The three witnesses are later questioned by the team, and they give similar accounts. They finger him as the suspect, and he was in the city during the first three killings.
Tess thinks that Joe is innocent due to some self-depreciating jokes he made, but Sam is quick to remind her that not everything is textbook. Sam obtains Joe's sealed records from when he was 12. He was accused of molesting his sister, and she looks like the victims.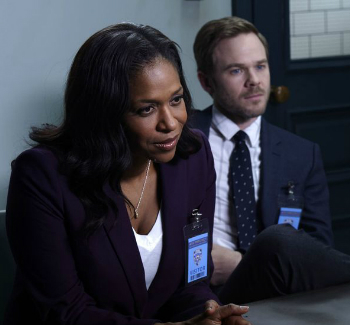 ABC
Maxine and Sam interview his sister; she insists that her brother didn't do anything wrong. She explains that they were playing doctor, and their stepdad walked in. Their stepdad attacked Joe and gave him permanent nerve damage.
Using test dummies, Frankie tests if Joe is physically capable of murdering the women. Since Joe can't raise his dominant right hand above his head, he is unable to deliver a blow forceful enough to fracture a skull.
Since Joe is not the Black Orchid Killer, that means the killer is still out there, and they need new suspects. They look into people incarcerated after the last murder and released before Marla was murdered. Tess gives the team, plus Detective Cestero, a rough profile of what to search for.
Just when everyone was about to take a break, Tess burst in the room with a lead. One of the witnesses, Donald Cutler, that placed Joe at the crime scene fits their profile. His foster mom abused him as a kid, and she matches the appearance of the other victims and even wore the right shade of lipstick.
She died of natural causes three weeks before the first BOK killing and likely triggered him into taking out his frustration on the other victims.
Maxine and Detective Cestero rush to Don's apartment and find it empty. When they find a drawing of May's apartment layout, it's apparent that he intends to finish the job. The police are already on scene when they arrive at her apartment, and there's also a dead body.
May shot Don after he broke into her apartment. With the real Black Orchid Killer found, Clark is released from prison.
Final Thoughts
It was great to see Tess shine in an episode. She's often looked at like a kid sister -- not usually by the CIU, but by others they work with. Although everyone was a little creeped out by her expertise, they all took her seriously. Apparently, Matty forgave Tess for lying to him. This was buried in the episode, and she revealed it to Clark. I would love to see her talk about this with Frankie. Bonus, we would also hear Frankie dish a little about his love life and learn if he's still interested in getting his boyfriend out of prison.
Was it just me or were there some sparks between Maxine and Detective Cestero after he apologized for messing up the case the first time around? I love that she called him out about messing it up the second time around.
Hayes and Wallace trying to be a normal couple is both amusing and adorable. They're not normal. They're not going to sit around talking about TV shows or museum exhibits. They're workaholics and their jobs are important to them. Thankfully, they realized this, but I wish it had happened before their not-so-fascinating conversation about Amelia Earhart's skeleton. Wallace reminded Hayes that talking about work means that they'll fight about it. Hayes wouldn't have it any other way, and neither would I.
Next week on Conviction, Hayes' father visits and provides their next case. Omar Abbas, a Muslim-American citizen has been held in a military for six years without a trial for allegedly attempting mass murder with chemical weapon. As the CIU searches for the truth, they end up battling the authorities instead. Tune in next week to see if they free Omar or if he's guilty.
What did everyone think of tonight's episode? Let us know in comments below.