I was first introduced to Craig Lawrence at The Delancey in New York City, a venue practically hidden away at the base of the Williamsburg Bridge.
He's got the kind of spirit that grabs you from the moment he and his band hit the stage, and that's a trait I can appreciate; his passion for what he does also shines through both in performance and during a conversation we had earlier this month.
He told PopWrapped about the process of creating his debut album, which, understandably, he's excited to put out into the world.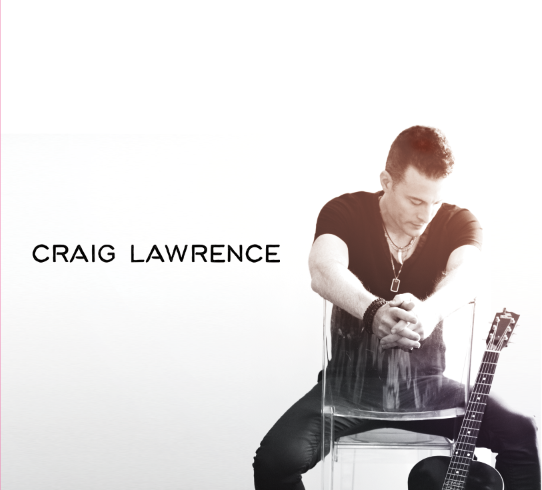 Credit: Craig Lawrence
PW: How long have you been circulating the music scene in NY?
Craig: I've been revising songs and developing them for about eight years, as I've played them live. Even in the studio, I've gone back in and revised them even further, just based on what's happening. It's been a real process.
PW: Is that your typical process, working on a project for an extended period of time and then tweaking it as you go along?
Craig: Sometimes you look back on something you wrote a year prior and you think, 'I wish I'd written it better.' That's what I ended up doing; I keep revising, and sharpening the focus, and I keep meeting better people who advise me in a better way. I'm able to take the same song and take it to a new person who may have great insight. "Lay It On the Line"--I didn't even have a bridge when I first recorded it and, through a lot of playing it live, I developed it and came up with a bridge, the solo for it, lyrics for it.
PW: Is the debut album different from anything you've done before?
Craig: Since the writing has happened over so many years, we have different styles that were coming in, which I think is cool. They started with folk/rock, but now everything is being pushed into the pop/rock sound. I started off with a gentle kind of style, and then I got so excited by seeing musicians take over the stage and rock out. I want to do pop, and I also want all the songs to be cohesive. That's the concern; we want to make sure that it does interconnect musically and sonically. That's what the focus is now.
PW: Who were your inspirations for the album, either superstars or rising artists?
Craig: As a rising artist, I'd say Jay Stolar. He is an absolute inspiration; I worked with him when I played Highline Ballroom and Toshi's Living Room; he played at both shows too. After that, we started a collaboration. This last song that I wrote, I worked with him on. I know it sounds weird, but M. Ward--his music is very different from mine, but he inspired me. Depeche Mode is another. As for superstars, Coldplay would definitely be on the list.
"Lay It On The Line," which already has a video directed by Chris Walters (Bruce Springsteen, 50 Cent), is the lead single for Craig's debut project, entitled Shake The World.
If his live performance and enthusiasm for his music are any indication, that album is going to live up to its name.
Stay tuned to PopWrapped for a review when Shake The World comes our way later this summer!
For more on Craig, check out his official website.