It may be the 21st Critics' Choice Awards, but I couldn't help but be in awe of the gorgeous dresses and stunning suits on the celebrities who grace the red carpet.
In the beginning, there was 50 Shades of Grey, but now it shall be 50 shades of blue starting off with actress Kate Beckinsale's silver accented look (above). Other favorites include Fresh Off the Boat actress Constance Wu with her bohemian take, January Jones in an Altuzarra shift dress, Joanne Froggart in a Roland Mouret gown, and Saoirse Ronan in a pastel blue of my dreams (all below).
Kristen Dunst in a dress designed by none other than Karl Langerfield, is one of the best dressed with silver accents (above). Featured in this category are actresses Kate Beckinsale once again and Leslie Mann in a ballerina-esque dress by Monique Lhuillier.
Heading over to the best suits, Aya Cash shows that women can rock the tuxedo-style pant suit, too (above).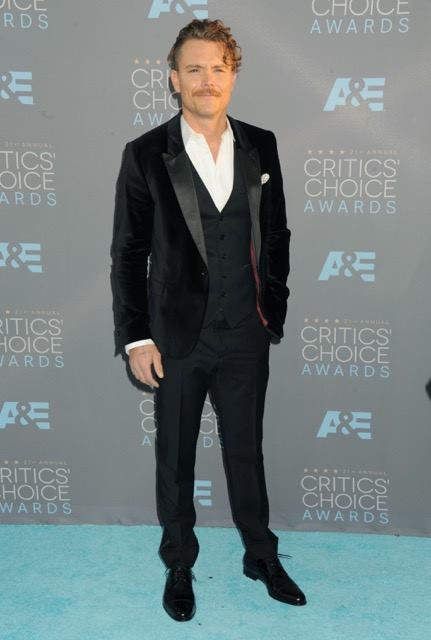 As for the men, first time Critics' Choice nominated Clayne Crawford from Sundance Channel's "Recitify" looks dashing in a custom black velvet tux from SAND (@sandcopenhagen) is one of the best of the best at the awards show (above). Others include Justin Theroux (pictured with wife Jennifer Aniston), rising child star Jacob Treblay, Hannibal Hugh Dancy, and Straight Outta Compton actor O'Shea Jackson Jr (all below).
Opting for either a minimalist black gown like "Mad Max" actress Rosie Huntington-Whiteley or a white halter dress like the one on Amy Schumer will continue to be a Hollywood classic (below).
However, like Jennifer Jason Leigh in a strapless black and white gown, these colors are a deadly combo (above). Other variations of this trend are Raychel Diane Weiner and Rachel Hay (below).
Last but not least are the variations of reds beginning  with Niecy Nash in an off the shoulder baby pink look (above). Next in line is "Access Hollywood" host Liz Hernandez in a berry colored jumpsuit (below).
The darker hues include my personal favorite, "Jessica Jones" actress Kyrsten Ritten and Rachel McAdams in Elie Saab Gown with Graziela Gems.
Which ones are your favorites? Let me know in the comments below!