Cyndi Lauper is known around the world for her unique music and the message that comes along with it, with a career that spans over 30 years. She is a Grammy, Tony, and Emmy award winner who has sold over 50 million records worldwide. She has also conquered Broadway with Kinky Boots and boasts a recurring role on Bones as Avalon Harmonia.
This past January, she released her 11th studio album, entitled Detour, that traces back to her early country music influences. She is currently on the Detour Tour, traveling the US, and, last night in Vegas, her son Dex Lauper opened up her show with two original songs.
Tonight, PopWrapped got the opportunity to shine a spotlight on her work with the LGBT community, who have been lifelong fans and have always held a special place in her hearts. Cyndi even wrote the song "Above the Clouds" after the sudden and senseless passing of Matthew Shepard. She soon created the True Colors Fund and Tour, an annual music tour that tour benefits the Human Rights Campaign and other organizations that provide support to the LGBT community and to the straight friends and family who love them, including PFLAG (Parents, Families and Friends of Lesbians and Gays) and the Matthew Shepard Foundation, as well as local organizations in cities where the concerts were held.
Her True Colors Fund is a major contributor to the LGBT shelter in New York City, called True Colors Residence. Tonight in Hollywood, Lauper stated, "The True Colors Fund is honored that Secretary Castro will provide the keynote at our inaugural Damn Gala. For the past four years, we have had the great privilege to partner with the U.S. Department of Housing and Urban Development to pilot and advance new solutions to prevent and end LGBT youth homelessness. We will end youth homelessness in America and, due to the strategic and innovative leadership of Secretary Castro and the team at HUD, tremendous progress has already been made."
We got the chance to speak with Lauper before the gala took place:
The second annual Damn Gala, which featured performances by Ms. Lauper and True Colors Fund Board Member and Tony Award-winning artist Sara Ramirez, paid tribute to USA Network and the Los Angeles LGBT Center. James Paxton and Tyler Young, stars of USA Network's upcoming series, Eyewitness, premiering October 16th, presented the network with its award. The Los Angeles LGBT Center's award was presented by Marc Malkin, Managing Editor and Correspondent at E! News, and his husband Fabian Quezada-Malkin. In addition, Phoebe VanCleefe and Kahlib Barton, two of True Colors Fund's extraordinary youth leaders, delivered TED-style talks, while True Colors Fund Board Member and Emmy Award-winning personality Carson Kressley served as the evening's host.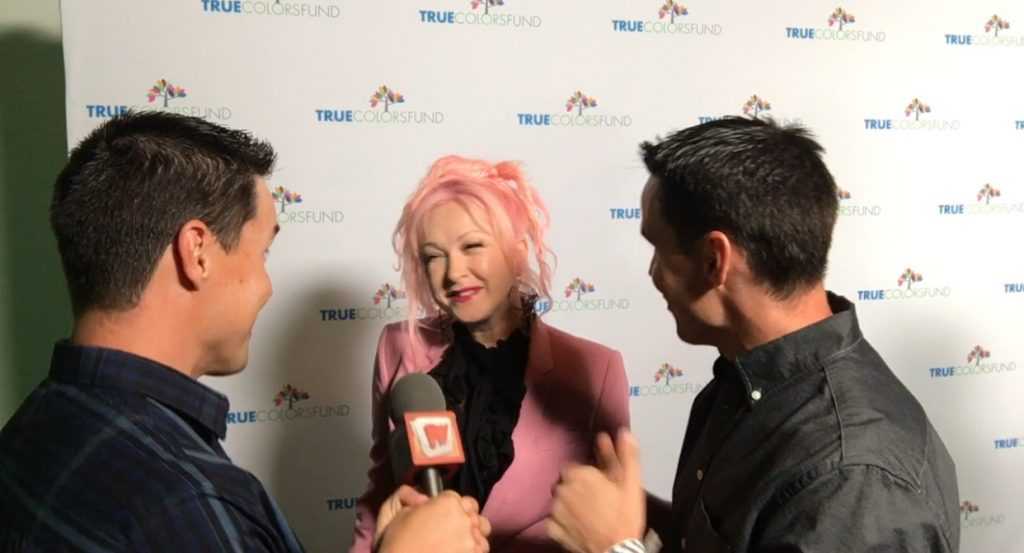 Lane Twins/PopWrapped
You may learn more about Cyndi Lauper's Damn Gala here.
Cyndi Lauper's True Colors Fund:
In America, up to 40 percent of the 1.6 million youth that are homeless each year identify as lesbian, gay, bisexual, or transgender. Yet, only up to seven percent of the general youth population is LGBT. The most cited reason for this disproportionate rate is family rejection due to the young person's sexual orientation or gender identity.
The True Colors Fund, co-founded by Cyndi Lauper, works nationally to end homelessness among lesbian, gay, bisexual, and transgender youth. Through a broad continuum of community organizing, public policy, youth collaboration, research, and public engagement programs, the True Colors Fund is creating a world in which young people can be their true selves.