For a couple of years, Damon and Jo have been capturing their trips around the globe in the hopes of scoring a television contract. But once they started uploading their adventures to YouTube, they hit it big – internet fame! Since then, they have gained a huge following on all of their social media platforms from fans who dream of one day visiting these gorgeous cities.
Every video, they pick a card from their deck and read a dare on the card. The dares come from fans across social media. Once they complete a dare, Damon and Jo take a photo, post about it, and move on to the next card!
Since branching into the YouTube universe, Damon and Jo's Dare to Travel has been picked up by AT&T Hello Lab, paving the way for even more chances to interact with fans and provide an immersive travel experience.
We got the chance to sit down with the dynamic travelling duo and ask them a couple of questions about their adventures so far and what we can expect in the coming videos.
PopWrapped: Good morning! You guys have gone to one of the places I've wanted to go to since forever! I've always wanted to go to New Orleans and the French Quarter and sit there and eat overly sugared beignets. So I was very jealous watching that episode this morning.
Damon: Yeah, trust me, that was my first time in New Orleans, and I couldn't stop hearing Jo say "Let's go to this place!"
Jo: It's magical! You have to go!
PW: It looks like you guys have had a great time going around and filming things.
Jo: Yeah, it was definitely a really cool experience to be able to do what we were doing before with support as well as active enhancement. We're now able to get these beautiful shots to make people feel like they're actually there with us, as opposed to just filming us with our own cameras – which we love as well. So it's interesting to mix up the media and have a professional crew mixed in with our authentic style.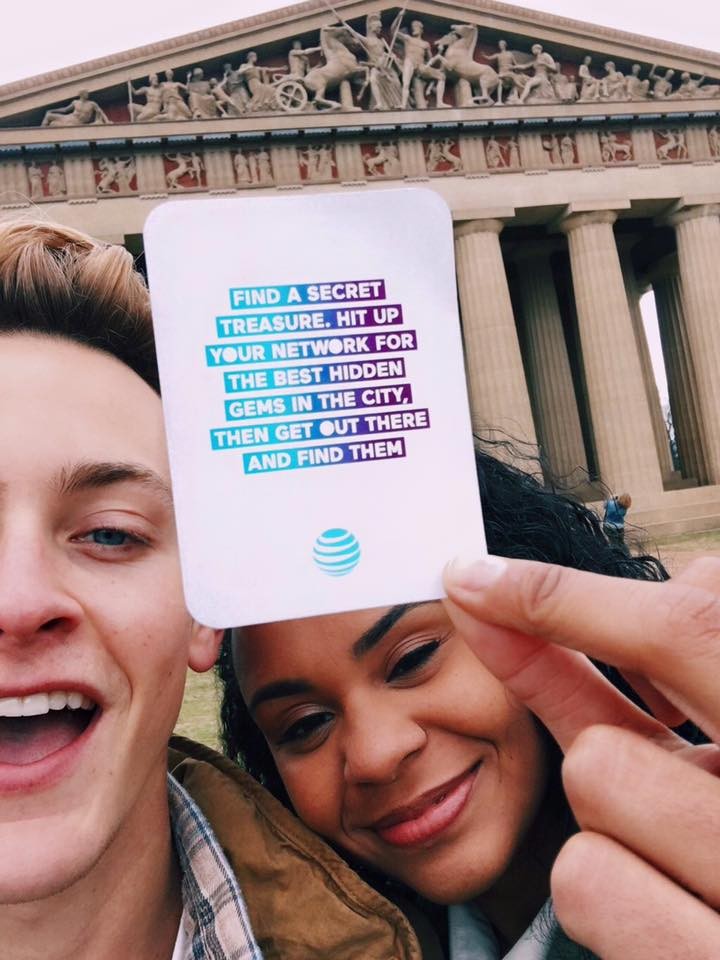 Courtesy of Damon and Jo
PW: Absolutely! So what inspired Dare to Travel's Dare Deck? Did you guys come up with all the dares yourselves, or did you take them from Twitter or Instagram followers?
Jo: A mixture of both, actually. What's cool about the show and the cards is that it's something that will live on beyond the show. So we wanted to make the first travel show for a generation where it's not just about taking suggestions from viewers. It's us taking those suggestions and creating this deck that they can go and use themselves.
Damon: It's like Jo said, and it's also about travelling to different cities. When you travel, most of the time it becomes too repetitive. It's a church, it's a monument – we wanted something not only us but our followers could use to spice up their travels and make it different. So you can create a different story every time.
PW: Now, I've never done geocaching before, so it was interesting watching you guys go around and find each thing. Is it always like that where you have to sign the item?
Damon: Oh yeah! We are constantly obsessed with geocaching! And what's cool is that you don't know it's a thing until you actually watch a video or you meet somebody who's done it before. One time we were in Poland – and we made a video about this – and it was Jo's first time geocaching. So we're doing it in Poland and all of a sudden there's this guy who's also doing it. What was cool is that we met him, and he had collected over 250 geocaches. And we asked him off camera, "Do you do this full time? What draws you to do this?" It's a really fun way to see the city and to connect to a different community of people.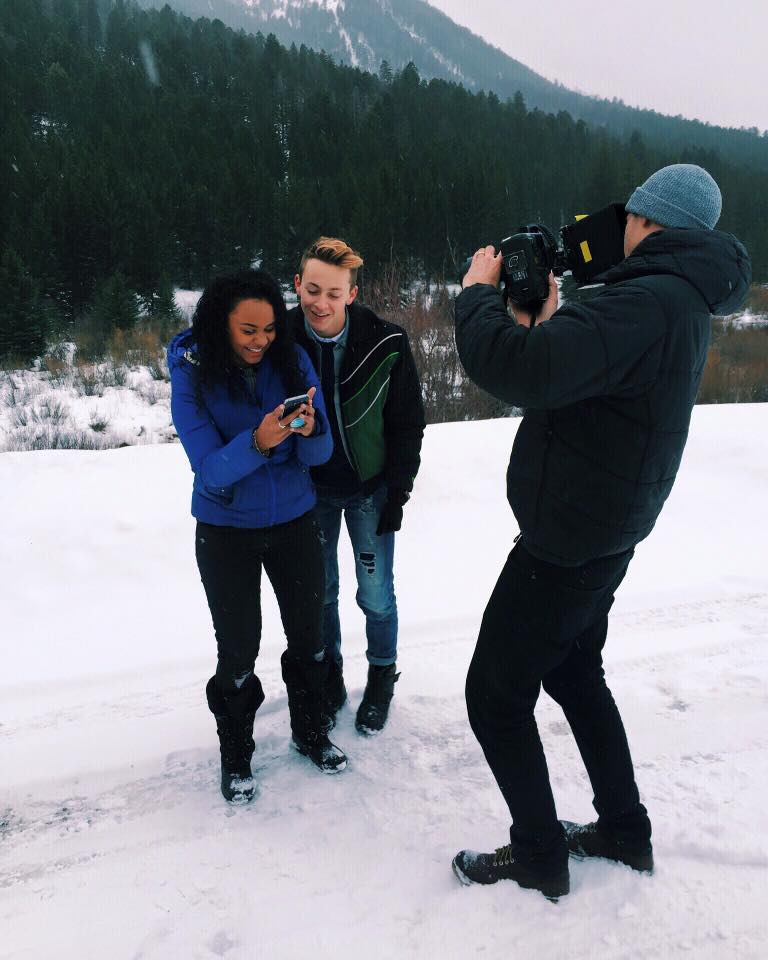 Courtesy of Damon and Jo
PW: Cool! What got you guys thinking about making this venture, Dare to Travel, a bigger thing?
Jo: We always wanted to make it as big as possible. But we didn't have a bajillion dollars, we didn't have relatives who worked in entertainment – none of that. We started completely from scratch. We were studying abroad in Paris about four years ago, and we decided to pick up this old camera from my sister and learn to edit videos. And we started documenting our travels because we always wanted to show people that you can travel the world. Even if you're not filthy rich and don't have that much money, you can still create those experiences. Open your mind and seize it! So we, from the beginning, have wanted to inspire other people to travel because it's not only good for your soul but it's good for globalization – it's good for people understanding other cultures and how they live. So we just started posting videos on YouTube and decided to take it to television.
We spent the first two years of our show life actually trying to pitch to television networks only to be told by the executives that travelling as a young person is too small of a niche to ever survive on TV. So we went back to the drawing board and continued posting videos on YouTube, and that's when we became full YouTubers – posting between two and three videos a week.
Then we moved to Los Angeles to do it full time, and that's when we got the chance to pitch for the AT&T opportunity, and it was really cool that we got access to the resources we would have on a TV show but with more creative control and the idea we wanted to pitch initially. So we weren't bending backwards for somebody else's show concept, it was the first time someone came in and loved what we were doing and gave us the resources to do it.
PW: Have you guys gotten to travel to every city on your list that you want to visit, or are there still more places either to revisit or visit for the first time?
Damon: What's cool about travel for us is the more you travel, the more you realise you really haven't seen much of the world.
Jo: You ain't seen nothin! We want to go to so many places – so many continents! All these places that, even if you go to one city, you can't possibly explore that one city in just a few days. So even when we go back to places we've already visited, it's cool to discover something new. But to answer your question: absolutely not. We still have a long, long list of places we want to see. And it's exciting that we've created a lifestyle out of it. We think other people can do the same, if it's what they want. Just shut up and go!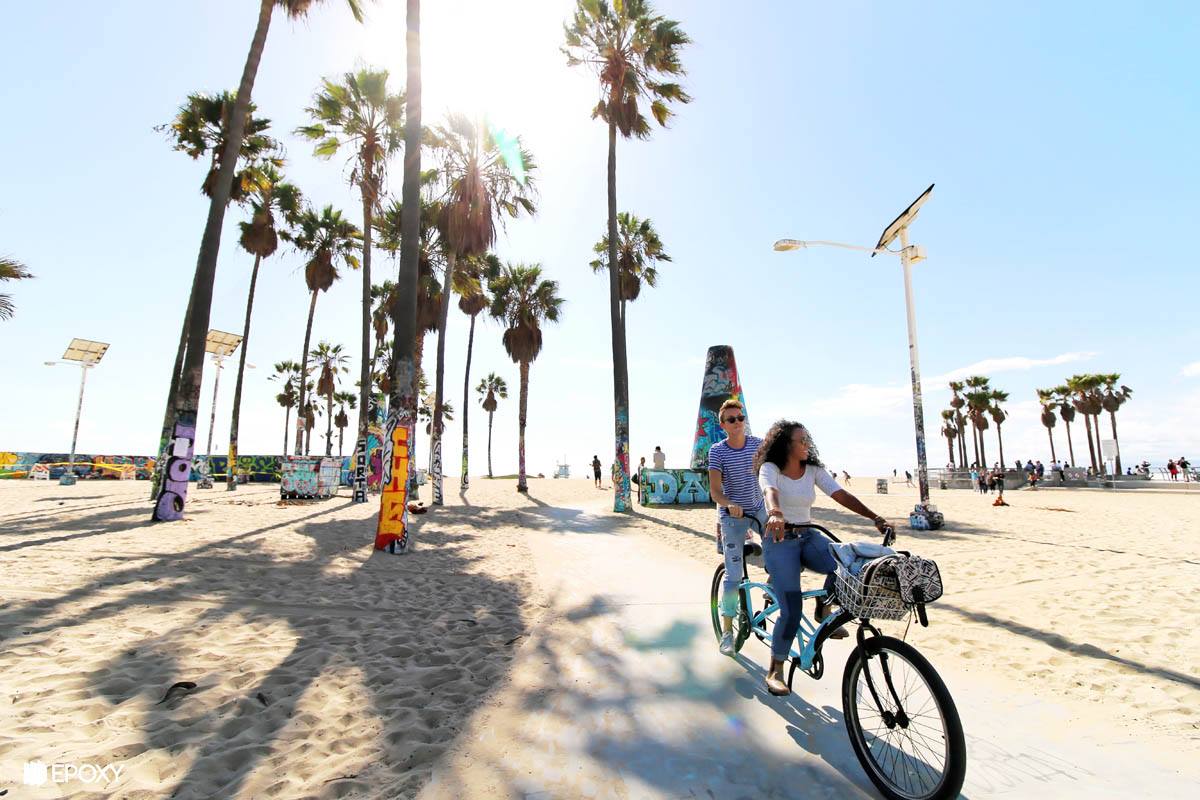 Courtesy of Damon and Jo
PW: But not everyone has a bajillion dollars to jump on a plane.
Jo: No, obviously not. That's what we're trying to teach people. We have ways to help them find the cheapest flights. We have our own favourite travel websites that can give you the best deals. It's not necessarily about going to exactly where you want to go, it's about going anywhere. You can find a bus ticket leaving your city for as little as $5 or $1. These are things people don't think about, and it's our job to show people how to do it by showing them how we do it. We are not trust fund babies, so there's no reason why you can't do it too.
PW: When you guys were staying in the haunted house in New Orleans, was that an Air B&B situation?
Damon: That was definitely an Air B&B situation. We try to mix it up depending on the city. Stay with a local, stay in a hostel, couch surfing, or something like Air B&B. That was definitely something that we both wanted to do. Jo had already been to New Orleans but she hadn't seen that side of New Orleans – and me, even though I'm a scaredy cat, deep down, I just wanted to stay in a haunted house. So New Orleans was the perfect spot for that.
PW: Can you give us any hints or tips about what you'll be doing in your next episodes? Or is that more of a wait and see?
Jo: What's cool is that people who follow us on social media can see what's coming because we're always live snapping or live tweeting. We're also blogging along the way. We give people little tips and bits all the time. There are a few other cities left – I almost forgot how much good stuff is coming out! But some of the good highlights were Damon ate some really spicy food, we ended up sleeping outside in Mexico in some adorable huts, and we spent the entire afternoon speaking in British accents. So there's some really good stuff that's coming out. And it's cool that it's happening soon – every Saturday.
PW: Well, I'll be sure to mark my calendar! You have one new fan all the way from San Diego! Is there anything else you want our readers to know?
Jo: Just to follow us on social media! The game ain't over! We do a lot of media cards – we do cards in the show and every week we also give our audience a card they can do themselves. Either something that can be done right away on social media, or something they can take to their own cities and explore. So follow us on all social media, and also follow AT&T Hello Lab, because they have behind the scenes videos that will be exclusively on their channel.
Big thanks to Damon and Jo for taking the time to speak with us! Be sure to follow them on Facebook, Twitter, Instagram, Snapchat (damonandjo), Periscope (damonandjo), YouTube, and their travel blog to stay up to date on all of their adventures!
If you want to send them something, be it advice on what to see in the city or just to say hello, post a letter to:
Damon and Jo 
P.O. Box 70026 
Los Angeles, CA 90070