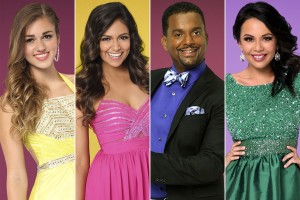 It all comes down to this, and we already have some problems going into  the finals.
We all know Alfonso Ribeiro is nursing a pretty serious injury, but now we've learned that Janel Parrish injured herself during rehearsals with partner Val, so no word yet on how that will affect her performance.
The final 4, including last man standing Alfonso, would perform one routine chosen by the judges, followed by the always incredible freestyle!!
At the end of the night however, one couple would say goodbye, just one night shy of the finale.
Each judge would meet with a contestant and give them a routine they've done before.
1. Bethany & Derek - Jive
The routine got off to a rocky start due to a problem with the production snagging a piece of equipment, which stalled the pacing. Derek admitted right off the bat during critiques that it happened, and we all saw it.  The routine never really rebounded which is a shame because Bethany really has been doing a great job this season. Let's hope the freestyle KILLS.
The judges still praised the number and Bethany's growth in the competition but they had to admit they couldn't ignore the routine suffering a tad.
They were awarded four 9's which is still a great way to kick off the show!!
2. Sadie & Mark - Samba
Watching Len in rehearsals with Sadie and Mark was such a riot, and it's always nice to see him let loose. Now we need to talk about their return to the samba, because there were moments of fun and moments of....
Timing issues?
Julianne praised the number, while Carrie Ann did as well, but Bruno received boos from the crowd when he called them out on slight timing issues. Len picked up on it as well, and it definitely happened. The number just felt a tad off during specific moments, but for the most part, Sadie once again showed she is in this to win it.
The judges scored them with two 9's and two 10's.
3. Janel & Val - Samba
From backstage video, it appeared that Janel injured one of her ribs during rehearsals, but would it affect their dance?
NOT ONE BIT!!!!
At least what I saw.......
This ridiculously hot duo exploded on the dance floor, and you would never know that Janel was injured prior to the number. Unfortunately, Bruno addressed a few missteps, which no other judge happened to mention. Janel didn't seem to wince in pain at all actually, until they were receiving their scores, which happened to be a 10 from Len and three 9's.
4. Alfonso & Witney - Jive
Knowing that Alfonso is hurting, one had to wonder if he would be able to bring his A game to the routine, similar to Janel. However, thanks to some pep talk from Carrie Ann, Alfonso and Witney SLAYED their jazz!!
With his baby boy sitting stage side, Alfonso received the biggest ovation of the night, including a STANDING O from Carrie Ann!!
Anyone have any guesses how they scored?
PERFECT SCORE!
Time for the freestyles!!!
1. Bethany & Derek
Um......
HOLY CRAP WOW!!!!!
Derek has never been one to shy away from remarkable choreography and a mind for the extreme, and this freestyle was no different. Goosebumps from the second the routine kicked off and they lasted until the closing seconds. Those lifts were ridiculous, and Bethany's attitude from start to finish was exceptional.
Absolutely BRILLIANT!!!!
Perfect score!!
2. Sadie & Mark
Sadie Robertson......plus Mark Ballas.....plus a Super Mario themed freestyle?
AMAZING!!!!
Sadie really showed off her personality, while Mark displayed his unique vision in a CRAZY memorable freestyle that will never be forgotten on "Dancing with the Stars", and it also happened to garner them their first perfect score!!!
Anyone else wanna play video games now?
3. Janel & Val 
It's always guaranteed to garner high scores when you perform a contemporary number during a freestyle, but Janel and Val may have served up the best yet with theirs.
Absolutely stunning from start to finish, and the chemistry from these 2 is insane. They're clearly dating off-camera, which makes it easier to root for them. Janel pushed through the pain and gave one of the most beautiful numbers of the entire season.
Perfect score!
4. Alfonso & Witney
If you look up FUN in the dictionary, you'll see a picture of Mr. Ribeiro!!!
This number fused the old style of dance with the new, infectious, high octane energy of today with an added bonus of some stellar tap!!!
Len Goodman was right:
The best dancer needs to win the competition, and that's Alfonso!!!! Add on a perfect score, and they were the only one to secure a perfect score of the night!
And now for the gut-wrenching moment:
Someone had to go home.
Who was going to the finals though:
Alfonso and Witney!!!
And with a shocker:
Sadie and Mark!!!
The couple going home, shy of the finale was....
Bethany and Derek.
---
So here we are folks, down to the final 3 couples and we've arrived at the conclusion of SEASON 19!! Monday night's competition came fierce and fast, and with only 1 routine between them and the Mirror Ball, it was anyone's game.
With Bethany & Derek missing out by just ONE show, our final 3 couples had one more routine and set of scores to receive from the judges.....and then we needed to crown a winner.
After an explosive intro from the pros, as well as some booty shaking from host Erin Andrews, we were treated to an encore performance of the incredible freestyle from Bethany and Derek. They may not have made the finale, but this was DAMN GOOD!!
It was time for the first musical guest though:
Nick Jonas!! The heartthrob took to the outdoor stage to perform his stellar hit "Jealous" and of course it was amazing! We were also treated to incredible performances from Oscar winner Jennifer Hudson and 2014 breakout star Meghan Trainor.
All of the former contestants took to the ballroom as well throughout the night, so that our final 3 could rehearse for their final dance of the season:
The dreaded FUSION dance!
So for the last time this season:
1. Sadie & Mark - Quickstep/Samba Fusion
You know, looking at the entire competition, Sadie really has showed the most growth and this routine showed that off even more! Sadie showed off her charisma, her personality and that she works well under pressure. I'm not sure she's going to win, but she's proven she BELONGS in the finale!
I'm eating my words!!
Perfect score!
2. Janel & Val - Foxtrot & Paso Doble Fusion
No surprise that these guys killed their final performance!!!!!
They lit up the dance floor with stellar choreography, and mixed the two styles brilliantly. Janel (and Alfonso) have been the front runners all season long, and they proved they want that Mirror Ball trophy BADLY.
PERFECT SCORE!
3. Alfonso & Witney - Cha Cha/Argentine Tango
No words.
Not even going to lie everyone: THIS is the couple I want to take home the Mirror Ball trophy.
But will they?
They ended their run in the competition with yet another PERFECT SCORE!
The time has come though, for Tom and Erin to reveal which couple fell JUST short of that Mirror Ball trophy. The couple placing in the 3rd spot is.....
Janel Parrish and Val!!
Must say, I really did think Sadie and Mark would place 3rd, but it all comes down to this. The winners, of season 19 of "Dancing with The Stars" is.....
ALFONSO & WITNEY!!!!!!!!!!!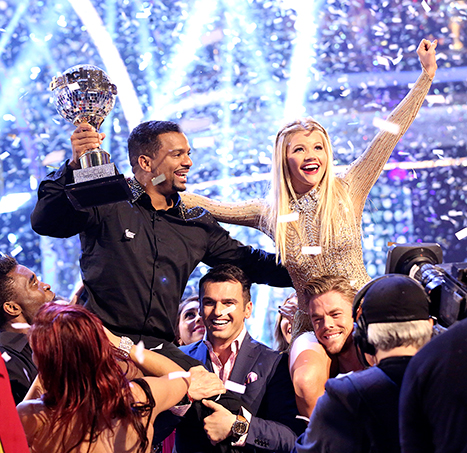 Courtesy of ABC
This season has been an absolute thrill to watch and yours truly is PROUD to call Alfonso and Witney the champions!!
Until the spring everyone, when the show celebrates its 10th anniversary!!
WHAT A SEASON!
Keep Up With PopWrapped On The Web!