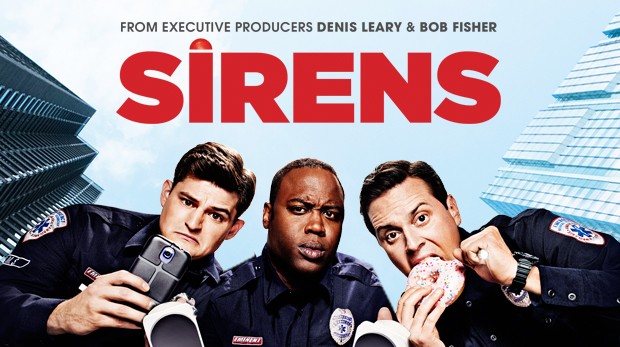 USA
Erica here!  For this week's Netflix Narratives, we watched Sirens, which has one season available online.  
Sirens was a USA Original series that ran for two seasons.  The second season aired last summer.  This series is a comedy, which is a bit of a twist for us.  I actually watched this one live and was devastated to learn it wouldn't return.  The show follows three paramedics on their day-to-day journey saving lives and being guys.
For me, the best part of this show was Billy, played by Josh Segarra. He was a stupid, but adorable, police officer.  He would say things like, "They got a panda for every person over there.  Oh man, I'm gonna love China."  He even mentions hot chocolate, too.  The point I'm trying to make is that this show was hilarious and it's a travesty that it's over.  My vote on this one is watch it!  Watch it over and over again.  I re-watched almost the whole first season this week for this article and it was just as funny as the first time!  Get with Hank, Johnny and Kevin ;)!  
Hey guys, Raechel here! Doing a comedy is quite a twist for us, huh? It's a bit of a twist for myself as well; I generally try to stay away from them because I just don't find them funny. But this one is actually really funny and it's pretty dirty, too, which is slightly surprising considering how disgustingly clean some things are (or how they try to be dirty and fail miserably). I seriously feel the need to add that there's no laugh track which is probably one of the reasons why I'm able to watch this without any problems. Anyway, this is a show that my boyfriend is actually watching and laughing along with me, which is something new to me, because he's not a big fan of comedies either.
This show reminds me a lot of Blue Mountain State, and not just because it was canceled before it should have been. Both effectively toe the line of comedy and drama to keep you entertained and laughing. So, should you watch it? Yes, definitely.
Stick with us as we continue to wade our way through Netflix's immense library each week!